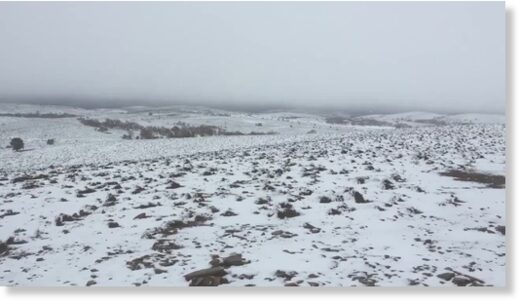 Record low temperatures across regional South Australia brought rare snow to the Flinders Ranges on Friday, August 7,
turning the red outback desert into a winter wonderland.
Records for the lowest daily maximum temperature were broken on Thursday at several locations
including Hawker, Whyalla, Yongala, and Port Augusta.
The Bureau of Meteorology
expected more temperature records to be broken on August 7.
A cold blast of wintry air brought the conditions to Australia in early August, according to the weather bureau. Snow was reported in parts of Tasmania, Victoria and New South Wales.
Videos posted by the Skytrek Willow Springs Station show snow blanketing the red desert around the outback station. Staff from the station told Storyful they had seen snow on the top of the hills around them
before but never so much down in the valley.
Credit: Skytrek Willow Springs Station via Storyful