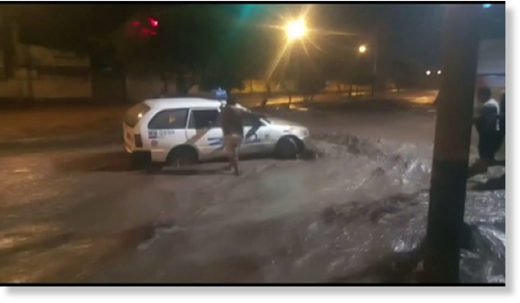 Heavy rains hit parts of Peru on Friday, causing flood waters to sweep down roads carrying multiple vehicles with them.
Comment:
Update
: Floodlist on the 24th February
reports
:
At least 3 people have died, 23 were injured and 250 families displaced after flash flooding and mudslides in Peru's Tacna Department.

Peru's disaster authority, Centro de Operaciones de Emergencia Nacional (COEN), reported that flooding struck after heavy rain on 21 February caused rivers and streams to break their banks.

Two people died in Alto de la Alianza district and another in Tacna district. One house was completely destroyed, 249 severely damage and a further 2,146 flooded.

COEN said at total of in 2,146 families were affected, including 371 in Tacna district, 450 in Pachia district and 800 in Pocollay district. Areas of Jorge Basadre Province were also affected, displacing 28 families in Ilabaya district.



Heavy rain has triggered flooding and landslides in other areas of the country over the last few days, including in Arequipa and Puno departments.
Reader Comments
( No Comments )