Earthquakes today have emerged around the Pacific Ring of Fire, where most of the world's seismic activity takes place. The United States Geological Survey (USGS) has recorded a total of 58 earthquakes, many of which touched down in clusters.
The world saw nearly 60 earthquakes today, most of which came in at middling magnitudes.
However, the USGS also recorded several potentially damaging higher magnitude tremors.
According to the organisation,
today's biggest earthquake measured in at a magnitude of 5.8 and struck Greece earlier this morning
.
The earthquake,
one of six to strike the area from 1.30am today, rocked the Mediterranean sea to the east of Karpathos
.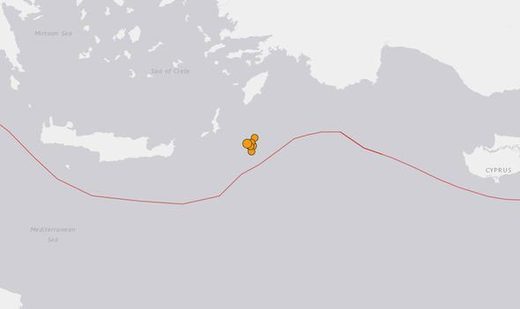 The tremors followed five similarly strong earthquakes, ranging from magnitudes of four to 5.6.
The USGS issued a green pager warning for the area, with potential economic loss and fatalities.
According to the organisation, there is a 65 percent chance at least one person could die.
They issued the same chances of at least £750,000 in damage.
However,
there are no initial reports of injuries or damage from either of today's tremors
.
The USGS added most people in the area reside in a "mix" of structures, which could leave some people vulnerable.
They said: "Overall, the population in this region resides in structures that are a mix of vulnerable and earthquake resistant construction."
The organisation added people might encounter secondary hazards such as landslides.
The latest series of earthquakes
marks the second day of high-magnitude tremors in the region
.
Yesterday, the USGS recorded two earthquakes measuring at magnitudes of 5.6 and 4.8, near the tourist hotspot of Kos and Rhodes and Karpathos.
Once again, authorities reported no initial casualties or damage from either earthquake.
Greece sits in one of the most seismically active areas of Europe, having seen roughly 169 earthquakes in the last year.
Turkey, which sits across the sea from the country, experienced strong tremors just five days ago.
A magnitude six earthquake in the eastern city of Elazig toppled buildings and killed 41 people.
A further 1,600 people are thought to have been injured by the tremors, and 45 people were pulled from the rubble by rescue workers.
The earthquake also killed a total of 76 buildings and damaged more than 1,000 others, forcing people to seek refuge in schools, tents and mosques as authorities warned them not to return to potentially unsafe homes.