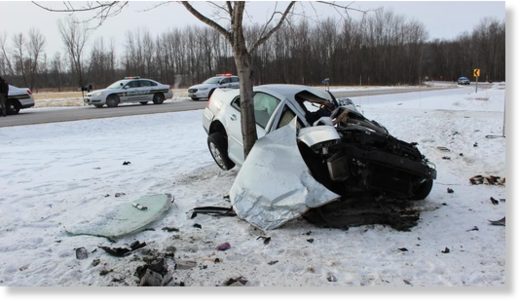 Blizzard warnings and winter storm warnings
heralded the arrival of icy roads that would plague residents across the central Plains throughout the day on Friday.
After a slick blanket of snow and ice latched itself to roadways, travel hazards and mishaps quickly followed.
Snow accumulations reached up to 7 inches in parts of Iowa by Friday night and 1-5 inches in parts of central Nebraska, western Iowa and spots of Missouri.
According to the National Weather Service office in Kansas City
(Missouri), some roads were rendered 'nearly impassible' by the precipitation Friday morning.
"Tomorrow morning there could be ice on untreated roads as temperatures drop well below freezing around sunrise. Drive safely tomorrow especially when off the beaten path," the office warned Friday night in a
tweet.
Friday evening in Iowa, a pickup truck on I-80 in Western Iowa slid off the road and came hurtling toward a delivery truck, a state trooper and the truck driver. A video had been captured of the incident from the inside of the delivery truck.
Shocking video today from a delivery truck on I-80 in Western Iowa. The AMCON Distributing driver, State Trooper, & occupants in the pickup truck were not seriously injured.If you have to be out driving during inclement weather- slow down and be aware of the road conditions. pic.twitter.com/tXqMAOjCjz

— Iowa State Patrol (@iowastatepatrol) January 18, 2020
In Lee's Summit, Missouri, located about 20 miles away from Kansas City, a firetruck rolled over in the early morning due to icy roads.
Our firefighters are safe! Pumper 5 encountered icy road conditions on SW Ward Rd & rolled onto its side. No injuries & no other vehicles involved. Pumper 5 was returning to Station 5 on 150 Hwy after providing coverage at another station that was out fighting a structure fire. pic.twitter.com/jixwYRix0W

— City of Lee's Summit (@cityofLS) January 17, 2020
On Friday morning, the Missouri Highway Patrol Troop A unit reported several stranded motorists,
more than two dozen non-injury crashes and at least four traffic wrecks that resulted in injuries.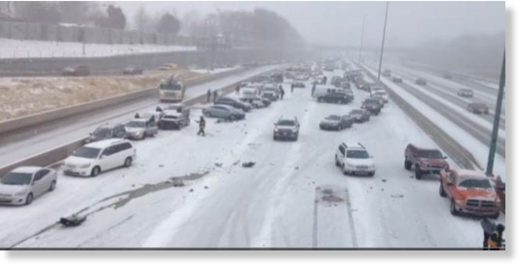 Travelers and workers at the Kansas City International Airport also felt the hardship of icy conditions on Friday morning, when the airfield was forced to close for multiple hours until 9 a.m. CST.
Shortly before shutting down,
a departing Delta flight skidded off the runway
. No injuries were reported as a result of the incident.
Earlier this week, Delta issued a
travel waiver
for travelers planning to catch flights through the impacted cities.
By Friday evening, over 600 flights at Chicago O'Hare International Airport had been cancelled and about another 350 flights delayed.