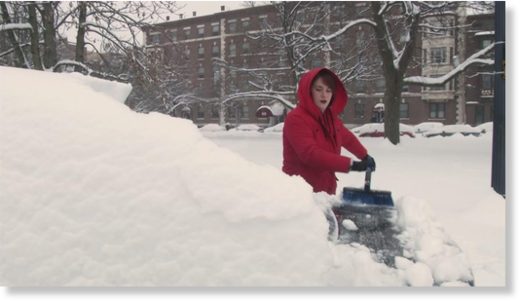 The two powerhouse storms that swept across the nation over the past week have left behind the most extensive early-December snow cover in at least 16 years.
Snow covered the ground on nearly half of the real estate in the Lower 48 —
46.2 percent of land area
— on Monday morning, the largest area on Dec. 2 since snow cover records from the National Oceanic and Atmospheric Administration began in 2003.
Normally, a little more than a quarter of the nation has snow on the ground at this time of year.
The back-to-back storms instigated miserable pre- and post-Thanksgiving travel conditions, resulting in hundreds of flight cancellations and delays, and scores of highway accidents.
Last Monday and Tuesday, the first of the two storms dumped double-digit snowfall totals from the Rockies to the northern Great Lakes, including
22.3 inches of snow in Boulder, Colo
., and
9.2 inches in Minneapolis.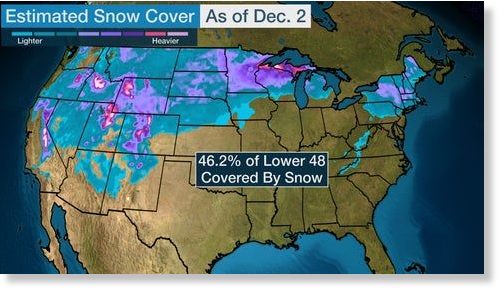 Here's a look at total snowfall accumulation across the Lower 48 States since last Tuesday, Nov. 26, 2019. At least 19 states had at least an isolated location with at least a foot of snow over the past 6 days! pic.twitter.com/JqqhpBxWiI

— NWS WPC (@NWSWPC) December 2, 2019
Then two storms hit the West Coast between Wednesday and Friday, including a historic "bomb cyclone in southwest Oregon," which combined into one storm system Saturday over the Plains, where it unleashed blizzard conditions. The storm is now socking the Northeast with heavy snow.
This coast-to-coast storm system has put down at least

a foot of snow in 25 states

,
including up to
four feet in the mountains of California and Utah
,
up to 30 inches in Wyoming and South Dakota, and over two feet in Minnesota, Michigan, Wisconsin, New York, Vermont, New Hampshire, and Massachusetts.
Specific amounts include
14.4 inches in Flagstaff, Ariz
.,
21.7 inches in Duluth, Minn
., and 22.6 inches in Albany, N.Y., the state capital's 8th biggest snowstorm on record.
The Alta Ski Area in Utah reported 47 inches of fresh powder!
Snow from this second storm fell as far south as the
high desert of Southern California
,
Tennessee
and the
mountains of northern Georgia.
After the second storm socked the Colorado Rockies, the
Colorado Avalanche Information Center
reported 51 avalanches in 48 hours Saturday and Sunday.
The weather over the next five to seven days will not be as active as the past week, although several storm systems will slam into California between Wednesday and Sunday, bringing plentiful rain and mountain snow. But, because these storm systems will tend to fade as they head east, the snow cover extent over the contiguous United States should recede some as this week wears on.
Below, find some snowy scenes from recent days across the country.
At 11:30 am, we're having blizzard-like conditions, in Grand Canyon Village, with blowing snow and hazardous driving conditions. Many regional roads are still closed as crews continue to plow. Don't travel today, if at all possible. #GrandCanyon #Arizona #AZWX pic.twitter.com/jlmft2Dd56

— Grand Canyon NPS (@GrandCanyonNPS) November 29, 2019