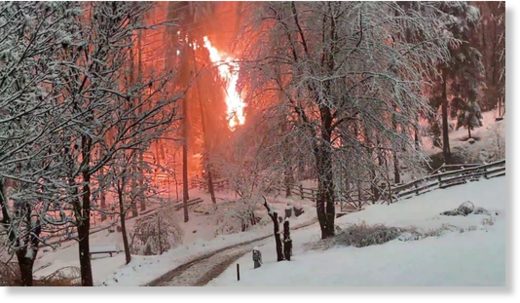 Heavy snowfall saw power lines downed in Bruneck, a town in the Italian province of South Tyrol, on November 17.
Two meters of snow
caused thousands of outages in the region, and made travel almost impossible.
Bruneck native Andreas Auer captured footage showing downed lines sparking into frightening life having fallen onto trees in the area, which is located at the foot of Kronplatz mountain, a skiing hotspot.
Sharing Auer's footage on Facebook, Martin Ausserdorfe, the mayor of nearby market town Sankt Lorenzen, warned that the situation was "dangerous" for locals.
An avalanche caused large snowdrifts and debris to partially engulf the South Tyrol town of Martell on November 17.
Credit: Andreas Auer via Storyful