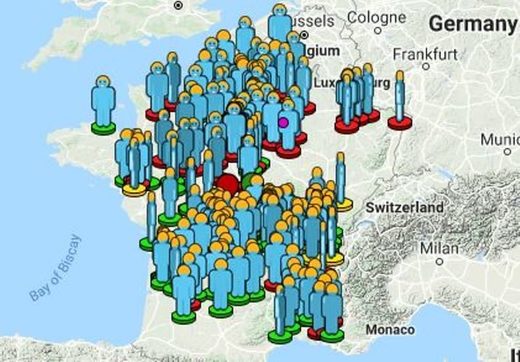 The American Meteor Society (AMS) has received 246 reports about a meteor fireball seen over France (Auvergne-Rhône-Alpes, Île-de-France, Bourgogne-Franche-Comté, Bretagne, Centre-Val de Loire, Grand Est, Hauts-de-France, Normandie, Nouvelle-Aquitaine, Occitanie, Pays de la Loire and Provence-Alpes-Côte d'Azur) on Wednesday, October 9th 2019 around 17:47 UT.
A
video
of the event (
4940-2019
) was uploaded to the AMS website.
Two witnesses in Limousin sent
La Montagne
their testimonials yesterday morning:
"I was with relatives in Haute-Corrèze, it lasted for 5 seconds, the star was really low altitude it was impressive it ignited orange then a shimmering green. to disintegrate into a few small pieces like a small firework rocket, heading north-west. "

CLÉMENT PAPPALARDO, IN SAINT-ETIENNE-AUX-CLOS (CORRÈZE)
"It was between 19:45 and 19:50, I saw a big yellow-orange ball with a shining rain behind it, heading northwest, it was very short, 2 or 3 seconds, and I wondered what it was like. was ... I got my answer a few hours later via Vigie-Ciel I also saw on Facebook observations made towards Sereilhac, Champsac ... It was the first time I saw this: intriguing, beautiful, but fleeting! "

CARINE PEYLET, IN LADIGNAC-LE-LONG
(HAUTE-VIENNE)
[Translated by google]
It was captured by the Fripon network of the Paris Observatory as reported by
20 Minutes
.