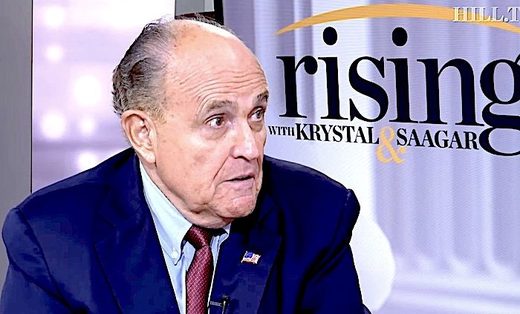 President Trump's personal attorney Rudy Giuliani said on Monday that the Jeffrey Epstein case "is obviously going to implicate a lot of people," adding "
I can't tell you who but it's not going to end up with just Jeffrey Epstein.
"
Speaking with Hill.TV
,
Giuliani said that investigators will undoubtedly focus on Epstein's inner circle, and whether individuals
knew or participated
in Epstein's sex crimes.
"
If you spent this much time with him and he was so involved with these underaged girls — who did you see him with and what was he doing and what did he tell you and what did he say to you and how could you have missed it,
" said Giuliani. "Maybe some were innocent — maybe some weren't, but I think they're going to investigate everybody."
The new charges against Epstein come more than a decade after the sixty-five-year-old pleaded guilty to sex trafficking and was sentenced to 13 months in prison. They have since renewed scrutiny on a 2008 plea deal that was secured in part by outgoing Trump administration Labor Secretary Alex Acosta, who resigned this month over the backlash.

Acosta was a U.S. attorney at the time of Epstein's conviction for soliciting prostitution from underage girls, and allowed Epstein to serve 13 months in "custody with work release." -The Hill
While Epstein's involvement with the Clintons and other famous liberals is well known (A donor to the Clintons, Epstein bragged about co-founding the Clinton Global Initiative at one point), many have questioned President Trump's involvement with the convicted pedophile.
That said, Giuliani's Monday decree suggests the President is most likely in the clear.