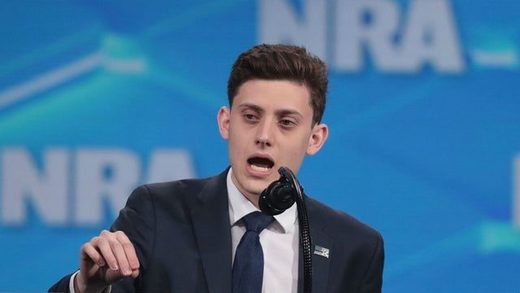 Parkland shooting survivor
Kyle Kashuv
said Tuesday he would not accept comparisons to the shooter who murdered his classmates.
Kashuv's comment were in response to
former Rep.
David Jolly
(R-Fla.) who said Kashuv's past racist and anti-Semitic rhetoric
is similar to that used by school shooters.
"I've said repeatedly that I'm horrified by comments I sent a few years back - I'll spend years working to make it right. I will accept and learn from criticism, but I will NOT accept being compared to the shooter who murdered my classmates," Kashuv said.
Kashuv, a vocal gun rights supporter, yesterday said
his acceptance to
Harvard was rescinded
over past comments he made at 16.
Harvard rescinded the student's acceptance
following a
HuffPost
report on comments that Kashuv made prior to the shooting in a shared Google Doc with other students, which repeatedly used the N-word and included the phrase "kill all the f---ing jews."
In a statement, Harvard spokeswoman Rachael Dane said "we do not comment publicly on the admissions status of individual applicants."