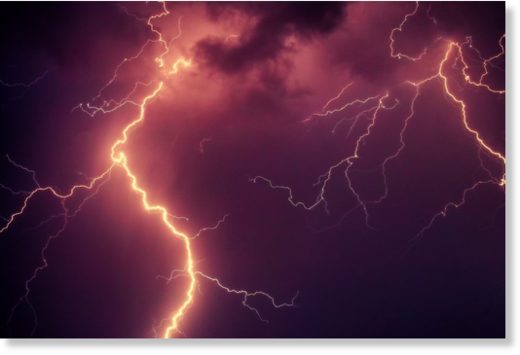 Lightning strikes killed at least 12 people, including four schoolchildren, across Uttar Pradesh on Thursday as many parts of north India were lashed by snow, thunderstorms and hail.
The bad weather left PM Narendra Modi stranded for four hours at Dehradun's Jolly Grant airport in the morning, preventing him from flying to Rudrapur, near Haldwani, for a public rally.
In Delhi, morning showers and hailstorms at isolated places led to the diversion of six flights and left many more delayed. The city saw intermittent showers till evening. Friday is expected to be cloudy with the possibility of light rain or thundershowers.
In UP's Kasganj, at least 35 schoolchildren had a narrow escape when a massive lightning bolt hit their government school, leaving cracks in the roof and walls of the building.
They were evacuated to safety, and later sent home.
Western UP bore the maximum brunt of the lightning strikes that killed 10 people, including four schoolchildren. There were also reports of damage to crops due to hailstorms in the region. Speaking to TOI, Mohan Singh Chahar, leader of Bharatiya Kisan Union's Agra unit, said, "Hailstorms have damaged mustard, pea, fennel, wheat and potato in many areas.
"
Three died in the villages of Agra and Firozabad districts, including two siblings.
Roshni, 12, and her younger brother Suraj, 6, died on the spot in Agra's Vikrampur village. They were returning from their farm with their father, Ram Niwas, when the lightning struck. The father survived as he was walking a few paces behind the children.
Lightning strikes killed three Meerut zone while four deaths were reported from Bareilly and Moradabad divisions.
Among the victims were two school-going cousins at Aonla in Bareilly district.
Two deaths were also reported from Jalaun and Banda districts
. The Met department said rain or snow occurred at most places over J&K and Himachal Pradesh.