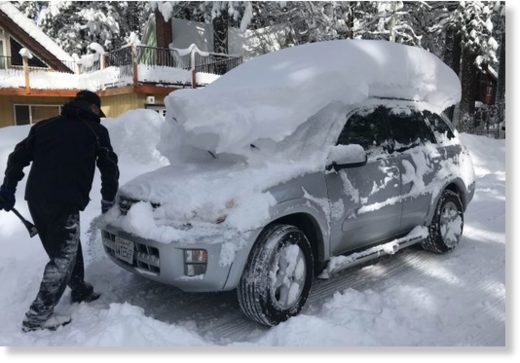 A winter storm dumped over 3 feet of snow at some Lake Tahoe ski resorts in a 24-hour span this weekend,
according to reports published Sunday morning, Feb. 10, from regional ski resorts.
The impressive numbers follow a light dusting Friday night and early Saturday morning, putting season snow totals at impressive levels heading into President's Day this weekend.
According to Squaw Valley's snowfall tracker, the resort has recorded 393 inches of snow at upper mountain (8,000 feet), with 242 inches reported at its 6,200-feet base, as of Sunday morning.
The resort reported a total of 58 inches of snow at upper mountain from Feb. 8-10.
As of Monday morning, meanwhile,
Lake Tahoe snow forecaster Bryan Allegretto
reports that Squaw Valley
has recorded 399 inches of snow for the season thus far,
putting it just a handful of inches below last season's 410-inch total.