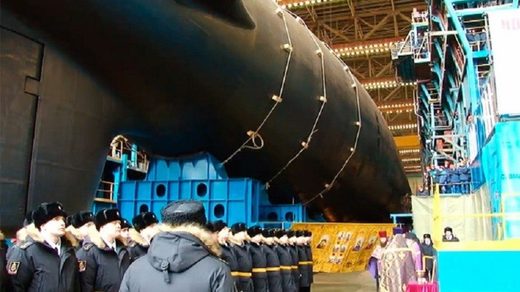 Two state-of-the-art Russian submarines are currently undergoing sea trials and are expected to finish the tests by the year's end, the CEO of the Sevmash shipyards said, adding that they will be handed over to the Navy in 2019.
Named 'Knyaz Vladimir' and 'Kazan', the two submarines, which are currently braving the harsh weather conditions of Russia's polar White Sea, belong to two various vessel classes which are expected to become the backbone of the Russian undersea fleet.
"Everything is going well, right according to the plan," Mikhail Budnichenko, the Sevmash CEO, told a press conference as he confirmed the news about the two submarines' sea trials. He also said that there was "no doubt" that the tests will be successful. The vessels are expected to be back to the port on December 24 and 28.
Both submarines will undergo another round of sea trials starting in May 2019
and will be handed over to the Navy by the end of the same year, Budnichenko said. Earlier, media
reports
suggested that one of the two submarines, 'Knyaz Vladimir', was deployed for sea trials on November 28.
Belonging to an upgraded version of the Borei-class submarines, 'Knyaz Vladimir' is one of the vessels which
will replace the older Akula and Delfin class submarines as the backbone of the Russian naval component of the nuclear deterrence triad.
The 170-meter long vessel is designed to carry 16 Bulava nuclear ballistic missiles, which have a reported range of up to 11,000km (6,835 miles) and can carry up to six nuclear warheads, alongside torpedoes as well as Onyx and Kalibr missiles.
The upgraded Borei-A variant has improved communication systems, lower noise levels, and better crew cabins. Three regular Borei-class submarines - the Yuriy Dolgorukiy, the Aleksandr Nevskiy and the Vladimir Monomakh - are currently on active duty in the Russian Navy and are actively used for Bulava test launches.
The second vessel undergoing the trials - the nuclear-powered multipurpose submarine called 'Kazan' - is no less impressive. Although it does not have ballistic nuclear missiles in its arsenal, it was still described as one of the "most advanced battleships that amassed all cutting-edge submarine shipbuilding technologies" by Admiral Vladimir Korolev, the Commander-in-Chief of the Russian Navy.
The 120-meter vessel of the Yasen-M class can dive to a depth of 520 meters and operate independently for 10 days. The submarines carry ten 533mm torpedoes and have eight vertical launching systems equipped with four Onyx and Kalibr supersonic cruise missiles each.
Kalibr missiles were repeatedly successfully launched both by Russia's
submarines
and surface
vessels
from the Mediterranean and Caspian Seas in the fight against terrorists in Syria.