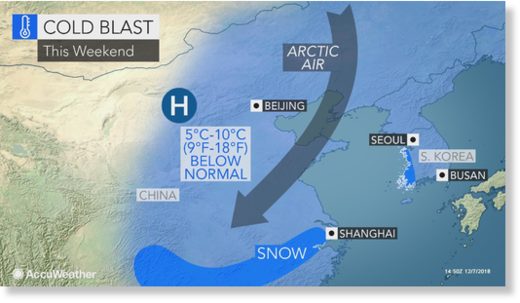 Bitter cold will continue to have a firm grip on eastern Asia through at least this weekend, forcing residents to bundle up. This will also lead to snow opportunities.
A mild autumn and start to December came to a bone-chilling end as bitterly cold air reached Beijing and northeast China on Thursday.
The cold air quickly pressed southward, encompassing much of eastern China and the Korean Peninsula by Friday.
Friday was one of Beijing's coldest December days on record as temperatures were held to just shy of 6 below zero Celsius (21 F). Biting winds created dangerously lower AccuWeather RealFeel® Temperatures of 18 below zero C (zero F).
"Temperatures have been held under 4 below zero C (25 F) on only seven December days since 2000," according to AccuWeather Senior Meteorologist Kristina Pydynowski. "Out of those days, only two had high temperatures near 6 below zero C (21 F)."

A high near 4 C (40 F) is more common in early December.

Similar weather gripped Seoul, South Korea, on Friday.
The last time both cities failed to have a high temperature above freezing was Feb. 11 and 12.
"Friday's high temperature was around the day's average low of 4 to 6 degrees below zero C (21-24 F) for each city,"
according to Pydynowski.
Temperatures will remain well below normal this weekend with areas from Beijing to Seoul again failing to reach 0 C (32 F) for a high temperature.
"Brisk winds will keep RealFeels dangerously lower through Saturday," Pydynowski said.
This Arctic blast will make it quite cold for any outdoor activities despite dry and sunny weather from Beijing to Seoul.
Residents will have to bundle up when going outside to avoid frostbite or hypothermia. Ensure that animals have proper shelter amid this cold snap.
Temperatures will slowly rebound back to near-normal levels by Wednesday.
Despite the cold, no snow is in the forecast for Beijing. That is not the case farther to the south and across the Korean Peninsula.
Snow will continue to accumulate and create slippery travel along the western coast of South Korea, south of Seoul, through Saturday night. Accumulating snowfall is possible across more of the Korean Peninsula, including Seoul, on Tuesday and Wednesday.