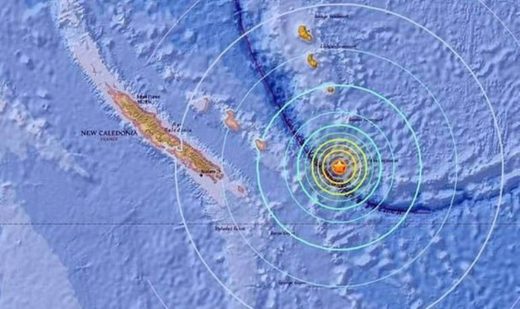 Tsunami waves have been spotted after a powerful undersea earthquake in New Caledonia in the South Pacific.
Evacuations were ordered after hazardous waves up to three metres tall were expected to rise following the 7.6 magnitude quake on Wednesday.
People on the east coast have been told to retreat at least 300m from the shore and to get to ground at least 12m in altitude.
The quake struck about 104 miles east of Tadine at a shallow depth of six miles, according to the US Geological Survey.
"Tsunami waves reaching 1 to 3 metres above the tide level are possible along some coasts of New Caledonia and Vanuatu," the Pacific Tsunami Warning Centre said.
The centre warned that waves of up to one metre (three feet) are possible for some coasts of Fiji.
There were no immediate reports of damage from the quake.
A spokesman for French mining and metals group Eramet , which operates the Doniambo nickel plant in the main harbour of Noumea, said it had enacted its tsunami alert process.
"The procedure is to ask people who work near the sea to move higher up," he said, adding that he had felt the quake, saying there was strong but not long-lasting shaking.