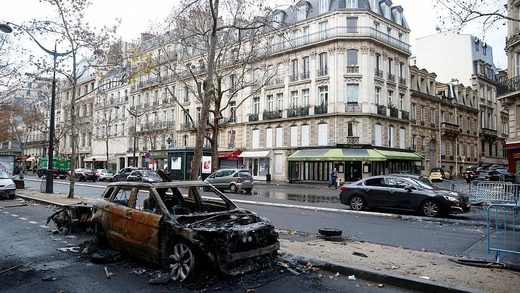 The French government is to consider imposing a state of emergency to prevent riots, government spokesman Benjamin Griveaux said on Sunday, following the arrest the day before of more than 400 people when a "Yellow Vest" protest turned violent.
"We have to think about the measures that can be taken so that these incidents don't happen again," Griveaux told Europe 1 radio on Sunday morning.
When asked whether a state of emergency could be imposed, Griveaux replied: "Every options will be examined."
Guerilla warfare
This comes after a dozen cars were set on fire, buildings were torched, tear gas was fired and water cannons were deployed in the French capital on Saturday in scenes reminiscent of guerilla warfare.
The heavy clashes started shortly before 09:00 CET on the Place de l'Etoile, at the foot of the Arc de Triomphe, when groups of people tried to force their way through a police checkpoint set up to prevent a planned "Yellow Vest" protest from turning violent, like it had the previous week.
The situation escalated quickly with some of the 1,500 protesters ripping cobblestones out of the paved road to throw at police officers.
Protesters, who chanted for Macron to resign, also sat down under the Arc - a significant symbol of the French Republic - to sing the national anthem.
Police wrestled control of the area shortly after lunchtime but groups of men then roamed central Paris, leaving wrecked cars and destruction behind them.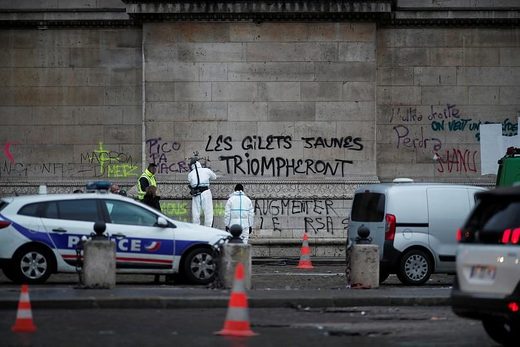 Overall 412 people were arrested and 133 were wounded including 23 law enforcement officers. According to the Ministry of Interior, firefighters dealt with 190 blazes including six buildings which were set on fire.
Authorities blamed the violence on "thugs" as well as far-right and far-left groups.
'Let's be responsible'
Meanwhile, dozens of peaceful protests got underway throughout the country.
The citizen "Yellow Vest" movement wants Macron to reverse his decision to increase taxes on fuel.
The nationwide protest has been ongoing for more than two weeks with protesters setting up road blockages to significantly slow down traffic and the delivery of goods.
Discussions between the authorities and the "Yellow Vest" protesters have been difficult because the citizen movement is not affiliated to any political group or union and has no leadership structure. Furthermore, what started as a protest over the price of petrol has now mutated into a crisis about spending power and inequalities.
Spokespeople for "Yellow Vest" activists wrote on Sunday that they
want the movement to be "the mouthpiece for a constructive anger."
Although they did not explicitly condemn the violence of the previous day, the
spokespeople, who include some of the founding members of the movement, urged protesters: "Let's be responsible and offer the government a door to end this crisis."
"Far from any radicalisation and in accord with the 80% of French people who support us, let's build a viable and credible project, in the interest of all,"
they added in an open letter published on
Le Journal Du Dimanche
.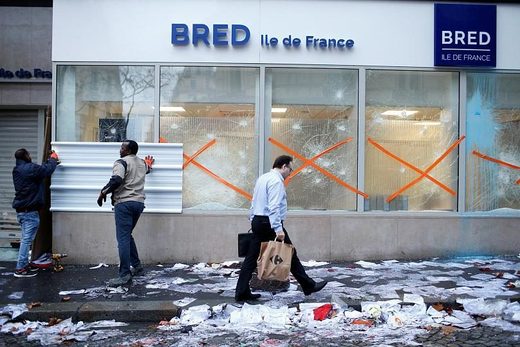 'Hungover, bruised and sullied'
Prime Minister Edouard Philippe and Interior Minister Christophe Castaner will join President Emmanuel Macron for an emergency meeting later today upon the President's return from Argentina, where he was attending the G20 summit.
Police unions have urged the government to impose a state of emergency.
"This morning, France wakes up hungover, bruised and sullied. Law enforcement forces are exhausted. Alliancepn calls on the state for an urgent state of emergency," the Alliance PN police union
tweeted
this morning.
The state of emergency allows authorities to establish a curfew, close down certain public places, forbid traffic and demonstrations in certain areas and can also enable them to censor the press.
It was last imposed after the November 2015 terror attacks in Paris in which 137 people. It was extended following the attack in Nice in which 87 people lost their lives. It expired in November 2017.