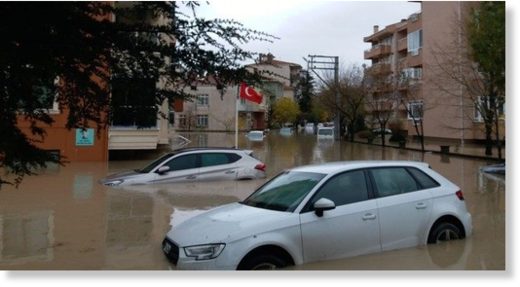 The worst rainfall in decades hit Edirne, a Turkish city bordering Greece, late Tuesday, causing floods. An elderly man that went missing in the floods was found dead in floodwaters around his house.
Floodwaters engulfed the city late Tuesday and early yesterday, closing streets to traffic, while traffic on roads connecting Edirne to other cities were barely moving due to high water levels. Homes on the first floors of apartment buildings and the entrance of an emergency room of a hospital were among those sites flooded in the city. Workers struggled to evacuate floodwaters and clear debris yesterday while bulldozers were dispatched around the city to save people trapped in their houses engulfed by floodwaters.
Meteorology experts said it was the worst rainfall since 1953 in the city, citing Edirne received 128.5 kilos of rainwater per square meter in one day.