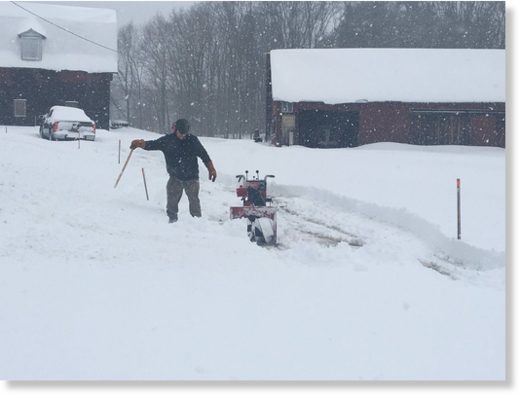 In the course of a few short days, mother nature dumped a whole lot of winter weather across Western New York. For Perrysburg in Cattaraugus County, that translated into 35.2 inches of snow,
as reported by the National Weather Service's Buffalo office at 3 p.m., Wednesday.
"[I] woke up this morning and it seemed like there was another foot which was just crazy, unbelievable," Craig Papiernik said. He spent most of the day clearing his and his neighbors' driveways with his stepson Christian.
Neighbors in Perrysburg, like most Western New Yorkers, are no strangers to snowfall. Just last winter, the town saw more than
100 inches of snowfall before New Years Day
.
Right now, the season total is around 60 inches.
"We see a lot of snow," Travis Lebeau said while clearing his 150 foot long driveway. "This definitely seems to be a little bit heavy though this year, for sure. But, we're dealing with it."
Because the snow was so heavy, Lebeau decided to use a snow blower to clear the entire driveway before finishing the job with the plow on his pickup truck.
"Honestly, I like the snow and play in it with the kids. But, that's about it. I'd rather just have nice summer weather, but I chose to live here so that's my problem," he joked.
"I love it," Papiernik said. "I love the snow. This is the Buffalo area, I don't mind it. The kids love it. They love playing, sledding."