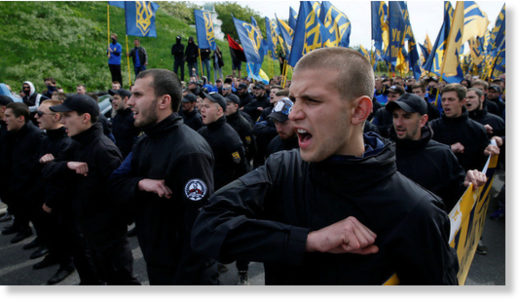 A celebrated Stanford scholar and ex-envoy to Russia is having trouble finding evidence that the Ukrainian government "sympathizes" with paramilitary groups that espouse neo-Nazi ideologies.
Michael McFaul expressed his doubts about Kiev's support for ultra-nationalist and neo-Nazi elements in Ukraine. He was responding to journalist Glenn Greenwald's assertion that the Ukrainian government "has clear, systemic & deeply ominous ties to actual Nazi groups & neo-Nazi factions."
Most countries have "Nazi sympathizers," McFaul artfully retorted. "But the Ukrainian government? Really? Any evidence to support that hypothesis? The Prime Minister is Jewish."
Greenwald promptly furnished two pieces of corroborating evidence, which can hardly be dismissed as "Russian propaganda" - the usual tactics for the willingly-blind about Ukraine's right-wing extremism problem.
The first, dating from March 2014, is a
Washington Post
op-ed
penned by Eugene Robinson, which decries how several top ministries and government posts were being headed by individuals with ties to far-right and neo-Nazi groups.
One notable example cited in the WaPo piece: Andriy Parubiy, the founder of the creatively-named and not-Nazi-sounding-at-all Social-National Party of Ukraine. The organization was an "openly neo-fascist precursor" to Svoboda, a current ultra-nationalist political party in Ukraine.
In 2014 Parubiy was head of the national security council and is currently speaker of the parliament - i.e., a leading figure in Ukraine's government. Is McFaul suggesting that Parubiy, whose "openly neo-fascist" organization once warned that "we are the last hope of the white race," is not sympathetic to Nazis anymore?
Greenwald also cited a recent
report
by the Associated Press, which notes that the Ukrainian Ministry of Youth and Sports has spent about $150,000 on youth camps run by ultra-nationalists teaching kids how "separatists" are not human and thus are ok to shoot at.
And this example is hardly isolated. Ukrainian budget money routinely goes to "patriotic projects" of group like C14, or "Sich". They are a notorious ultranationalist organization "whose members have openly expressed neo-Nazi views,"
according
to RFE/RL.
And they act on their convictions with impunity. C14 openly claimed credit for a series of attacks on Roma people in Ukraine, framing it as "cleaning". The sometimes violent crackdowns faced no opposition from the police and courts
don't seem
too eager to have the individuals organizing those pogroms prosecuted.
If a State Department-funded news outlet can come to the conclusion that C14 has government's backing, surely its former employee could too. At least the NATO-funded Atlantic Council think tank
connected
the dots in June, hilariously starting its piece by giving RT credit for spending years reporting on Ukraine's growing neo-Nazi problem.
And this problem is not limited to Ukraine. The right-wing extremists there eagerly share their experience with foreign sympathizers, from Europe and from the US too. The FBI accused Ukraine's Azov Battalion of radicalizing and training US-based white supremacy groups.
In court filings, the FBI
said
that "Azov Battalion is a paramilitary unit of the Ukrainian National Guard which is known for its association with neo-Nazi ideology and use of Nazi symbolism, and which is believed to have participated in training and radicalizing United States-based white supremacy organizations."
If a group is part of the regular law enforcement force and a top official
praises
its members as national heroes, it seems like convincing evidence of government support.
In 2014, President Petro Poroshenko even
presented
Azov's leader, Andriy Biletsky, with the Order For Courage. At the time, Biletsky was also the head of the Social National Assembly, an organization committed to "punishing severely sexual perversions and any interracial contacts that lead to the extinction of the white man." The BBC
called
the notion "a typical neo-Nazi narrative," in a July report.
And the list goes on and on.
McFaul's argument that a government headed by a Jewish person cannot possibly support neo-Nazis doesn't seem to hold water. In May 2017, Ukrainian Prime Minister Volodymir Groysman personally travelled to Israel to secure the purchase of weapons for Azov Battalion, which has since published videos of its members training with Israeli assault rifles.
As
Haaretz
reported
at the time: "Israel is exporting weapons to Ukraine, knowing that they reach right-wing militias, some members of which are avowed neo-Nazis who enjoy the support of the authorities."
It seems like somebody is living in denial.