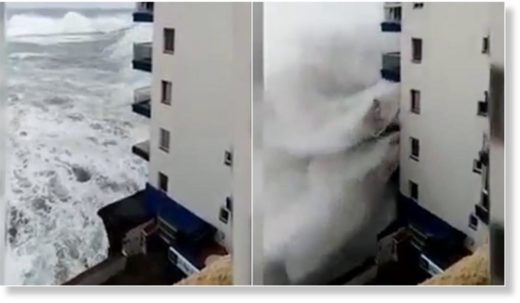 Enormous waves are battering buildings on the north coast of Tenerife, the largest of the Canary Islands.
According to local reports 39 people have been evacuated from their homes, although fortunately nobody has been injured.
Footage uploaded to social media by Nelson Acosta shows the gigantic waves sweeping out of the sea and crashing into the side of a high-rise building, brushing away the railings from concrete balconies.
The turbulent sea has also battered the southern coast of the island according to Huffpost Spain, where the windows of a hotel restaurant were reportedly broken while several people were dining.
One Twitter user said they were aware of the danger of taking the photographs, but said the truth was they found the images of the waves breaking "spectacular and beautiful".
According to the Spanish meteorological agency, an orange-level alert regarding waves in the Canary islands has been downgraded to yellow, which is expected to stand until Monday morning.
Waves up to six metres high
have caused a considerable amount of damage according to local reports,
although this has not yet been officially assessed.