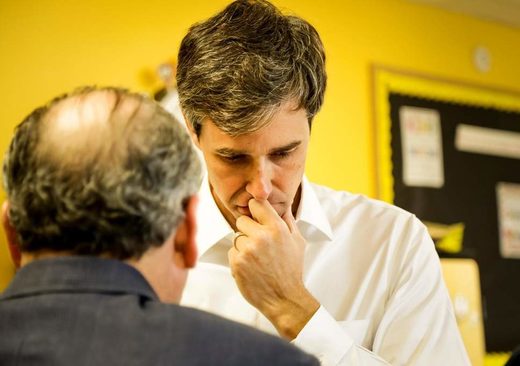 Beto O'Rourke's
senatorial campaign has apologised for text messages sent to voters soliciting volunteers to help transport undocumented immigrants to the
polls
on election day.
The text was "not an approved message by the campaign and it is definitely not something we are doing," Ana Castañón, deputy communications official for Mr O'Rourke's campaign, told
The independent
. "We're continuing to look into what happened."
The messages came from within the campaign's text message operations, reading: "Hi, It's Patsy here w/ Beto for Texas. Our records indicate that you're a supporter.
We are in search of volunteers to help transport undocumented immigrants to polling booths so that they will be able [sic] vote."
"Would you be able to support this grassroots effort?" the message continued.
The text was sent to voters near 4:00pm local time on Wednesday, with several recipients describing immediate disbelief and shock online.
The messages were produced by an "imposter" who "signed up to be a volunteer on our texting team," the campaign said in a statement to the
Austin American-Statesman
, a local newspaper.
Another message appearing to be from the campaign also circulated on social media Wednesday afternoon, asking voters to participate in a poll on their thoughts about socialism.
In a follow-up text, the campaign said the messages were "not approved by the campaign".
"We're very sorry about this and have taken the necessary steps to make that they do not continue sending text messages with our campaign," the message read.
Campaign spokesperson Chris Evans told the
Austin American-Statesman
in a text, "we're continuing to look into what happened."
The texting controversy is just the latest campaign spoof targeting contentious midterm election races across the country.
In Florida, fake robo-calls targeted Andrew Gillum, the black progressive Democrat vying to become the state's first black governor. The recording was of a man pretending to be Mr Gillum, speaking in a racially-charged dialect while asking voters for their support.
Last year, a fake robo-call from a supposed
Washington Post
reporter named "Bernie Bernstein" was viewed as an anti-Semitic message geared to make sexual misconduct allegations against Alabama senate candidate Roy Moore appear less credible.
It remains unclear for now what impact the messages Mr O'Rourke's campaign sent out could have on the closely-watched and surprisingly contentious race for the reliably red senate seat in Texas - if any. By Thursday, it did not appear voters fell for the false messages, while the candidate was spotlighting a new campaign video about his trips across the state to meet with constituents.