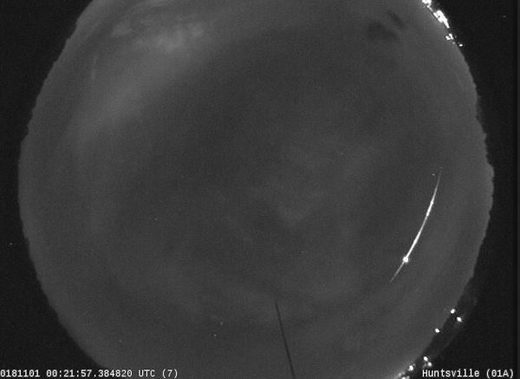 Halloween 2018 came complete with a short celestial show.
A meteor streaked across the sky Wednesday around 7:21 p.m. Dr. Bill Cooke of NASA's Meteoroid Environment Office in Huntsville told WHNT
the meteor wasn't a Taurid Fireball - something that would be more common this time of year. It was instead a small piece of a comet.
"Found your meteor in 3 of our cameras at 7:21:57 PM - uncommon slow mover (37,000 mph) seen through clouds, traveling almost due north right up the Alabama/Mississippi state line,"
Cooke told WHNT.
"Nice flares indicating multiple fragmentations. The meteor burned up about 43 miles above the Mississippi town of Mingo, just across the state line. Orbit and brightness indicate that the fireball was caused by a fragment of a comet about 3 inches in diameter."