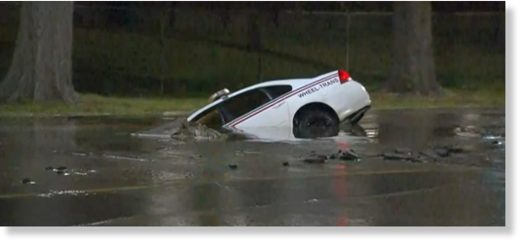 A sinkhole caused by a water main break has closed a section of Commissioners Street in the Port Lands area of Toronto.
Toronto Fire crews responded to a call of water flowing along the stretch of road between Bouchette Street and Logan Avenue at around 5 a.m. Tuesday.
Firefighters arrived on scene and located a TTC supervisor vehicle partially submerged in a sinkhole near the water main break.
TTC spokesperson Brad Ross said the driver got out safely and no injuries were reported. The vehicle was fully submerged several hours later.
The area remains closed to traffic as crews try to determine the source of the leak and complete the necessary repairs. No timeline was given as to when the street will fully reopen.
The water main break is located in between a city transfer station and a FedEx shipping centre.
The 72 Pape bus is currently being diverted southbound via Carla Avenue, Lake Shore Boulevard East and Cherry Street.
The same northbound bus is being diverted via Commissioners Street, Don Roadway and Lake Shore Boulevard East.