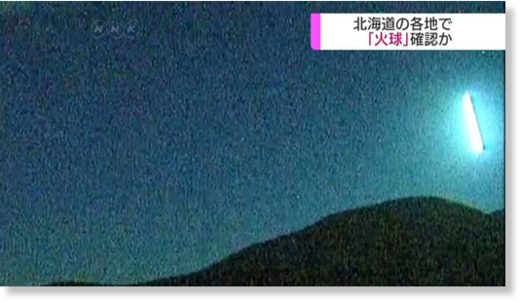 A fireball appeared in the sky over Hokkaido, northern Japan, on Thursday. An expert says it may have been a fragment of an asteroid or some other object entering the Earth's atmosphere.
NHK's cameras positioned across the prefecture captured the flash of light in the sky at around 8:56 PM. The cameras are installed on Mount Hakodate and the island of Rishiri and in the town of Shari.
People in wide areas of Hokkaido posted reports of sightings on Twitter.
Fumitake Watanabe, an engineer at an observatory in the city of Nayoro, said the fireball appears to have been caused by an object such as a fragment of an asteroid burning up in the Earth's atmosphere.
He said judging from the light, the object appears to have burned up before reaching the Earth's surface.