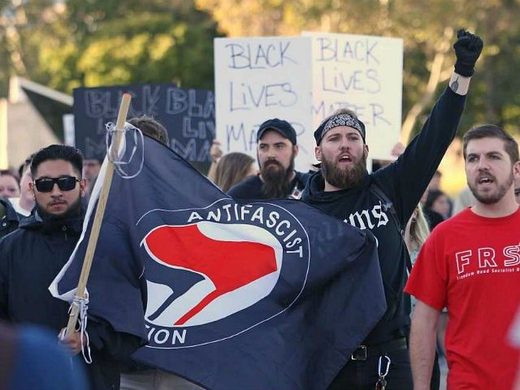 Mayor Ted Wheeler said Friday he found it "appalling" how protesters treated a motorist driving in downtown during a protest Saturday.
But he also defended Portland Police crowd control techniques, saying policing is more challenging than onlookers may think and requires balancing the safety and rights of protesters, police officers and bystanders.
Demonstrators
took to downtown streets
that day over the death of Patrick Kimmons, whom Portland police officers
shot and killed
early in the morning of Sept. 30. It is still unclear why officers fired upon Kimmons, whom they came upon armed in a part of downtown where two men had been injured by gunfire.
As demonstrators directed traffic and blocked streets during their protest, a man driving a silver Lexus slowly drove through a small crowd. Some protesters pounded on the man's car. The man told
The Oregonian
/OregonLive
he did not intentionally drive into the crowd but rather was surrounded by protesters as he sought to head east of downtown.
The encounter caused no injuries, but it reverberated across the internet and in conservative news circles, which focused criticisms on the lack of police response to the protest. Wheeler, as police commissioner, has taken the position that protesters must keep to sidewalks and are not allowed to take over streets. But police did not immediately force them out of the street during the Kimmons protest.
Some outlets portrayed Portland as a den of lawlessness, taken over by Antifa protesters.
Comment:
The driver got out of his car to ask protesters to move. They then grabbed him and as he got back in the car, they began beating on his car and smashed his driver's side window.
ZeroHedge adds
:
The footage further shows multiple instances of cars being hit with rods and fists for refusing to obey their commands. "I'll beat the shit out of you!" men standing in the middle of the road shout at passing cars.

"We don't need your KKK in Portland, Oregon!" - another shouted at a man for merely having North Carolina plates. Drivers are prevented from going left while Antifa members shout down justifiably angered drivers who are being forced to turn right.

One driver pauses in the intersection and appears to call the police on his cell phone, which further enrages the mob. The radical far-left group claimed to be protesting a recent police shooting in the city.
Wheeler pushed back strongly against those characterizations Friday.
"People should not immediately jump to the kinds of statements that were being put out on Breitbart and Fox News, that because the police did not intervene in that particular moment under that exact circumstances that chaos rules in the streets of Portland or that the police didn't do their job or that I'm a nutcase mayor - their words, not mine," Wheeler said.
"I'm willing to take criticism all day long from Fox News," he said. "But I'm not willing to accept criticism from Fox News of the men and women of the Portland Police Bureau."
Wheeler said police leaders knew of the protest and decided not to intervene, fearing the situation could escalate.
Wheeler, who as mayor and police commissioner is ultimately responsible for the Police Bureau, said Friday he leaves tactical decisions to police leaders and trusts their judgment.
He added that the bureau will investigate the incident.
The mayor said protesters should not have acted in the way they did.
"I think it is
extremely inappropriate
for people to be blocking traffic, to be harassing people going about their everyday business and violating the law," Wheeler said. "I do not support that kind of behavior."
Wheeler said the public should have sympathy for police officers, who often find themselves in what he termed a "Goldilocks" situation.
"The porridge is either two hot or too cold," Wheeler said, referencing the children's tale.
"At any given moment in this city the police are being criticized for being heavy handed and intervening too quickly," he said, "or they're being criticized for being standoffish and not intervening quickly enough."
Though the Police Bureau endured criticism for lack of response this week, it was also sued by two people claiming they were harmed by overly aggressive officers while in downtown in 2016.