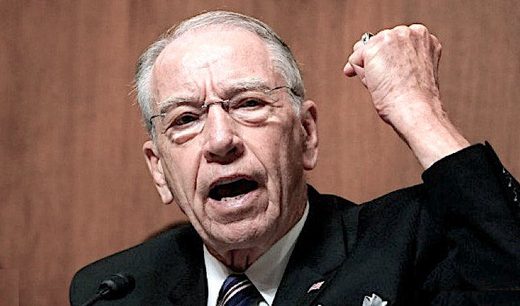 The Senate Judiciary has received the FBI's report on Judge Brett Kavanaugh and Sen. Chuck Grassley (R-IA) is the first to respond, giving a very short statement on what he read.
Grassley didn't hold back. He made a three-word statement after reading the FBI's investigation into Judge Brett Kavanaugh and accusations that he participated in sexual misconduct after facing accusations from Christine Blasey Ford. Grassley kept it short and sweet, stating that there is
"absolutely no corroboration"
in regards to Ford's accusations against Judge Brett Kavanaugh.
"NEW: "Absolutely no corroboration," Senate Judiciary Cmte. Chairman Grassley tells @NBCNews when asked if there is anything in the FBI supplemental background investigation that corroborates allegations against Judge Kavanaugh - @frankthorp"
The report now goes to the remaining Democrats and Republicans who each have one collective hour per group to review the report.
Senators are able to read the investigation results today and voting Kavanaugh into the Supreme Court has a good chance of starting on Friday, tomorrow. Majority Leader Mitch McConnell (R-Ky.) has expressed his intent to bring Kavanaugh's nomination in front of the full Senate this week.
There is reportedly only one copy of the report provided to Republicans and Democrats and they'll alternate viewing.
Security of the confidential document remains an issue.
There are strict limitations on the document in hopes to prevent leaks.
This is likely a result of what happened with Ford's original letter to Feinstein wishing for her story to remain in confidentiality, and all the leaks seeping out of the White House during Trump's presidency.
Democrats are not happy that only one copy is being provided for all to read. That is ONE copy total. If there were multiple copies, then it would probably be easier to slip a few pages out of the document and leak them to various sources in the press.
However, all people need to do is take a photo with their cell phone if they really want to leak the documents. Although, it is currently unknown if Senators viewing the FBI report are allowed to have any electronic devices on them while reading it.
Sen. Dick Durbin (D-IL) complained, saying "Get this - one copy! For the United States Senate," Sen. Dick Durbin (D-Ill.) said on Wednesday. "That's what we were told. And we were also that we would be given one hour for the Dems, one hour for the Republicans. Alternating" according to The Hill.
As posted by
The Hill
,
"the Judiciary Committee said in a statement early Thursday that the FBI report will be held in the Office of Senate Security as a "security and confidentiality precaution."

"Amidst concerns over recent leaks of sensitive or confidential information, the legal restrictions imposed by the Privacy Act and the expected interest among senators to review the information, the use of the Senate's secure space will best facilitate access for senators," it added. "The use of the secure space in this case will satisfy the physical custody requirements outlined in the memorandum of understanding."
Democrats had a surprise for October as they delayed a confirmation into the Supreme Court by demanding an FBI investigation into Christine Blasey Ford's accusation suggesting that Brett Kavanaugh had committed sexual assault towards her in the early 1980's.
However, the FBI investigation may have backfired because there's a chance that it provided more concrete information to support Kavanaugh and release him from the grip of the Democrats holding him down.
The damage has been done to his reputation regardless of what the FBI's full investigation reveals and there's a good chance that even if the investigation proves that Ford's story doesn't match up, that Democrats will still vote against Kavanaugh no matter what.
If Kavanaugh is cleared of all wrongdoing and Democrats still vote against him, then there was no point to the investigation because it didn't change the way anyone on the polar end of the political spectrum was thinking.