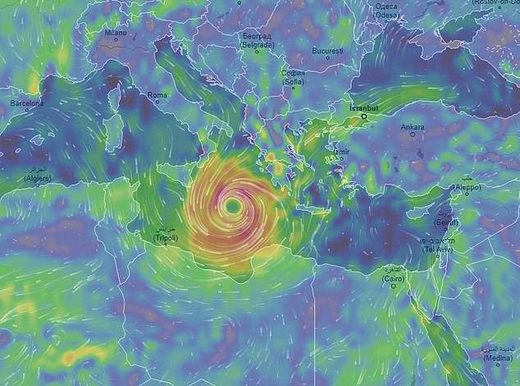 Emergency services in Italy and Greece were on high alert on Friday bracing for a powerful cyclone that was expected to bring gale-force winds and torrential rain to the eastern Mediterranean this weekend.
Greece was already feeling the impact of thunderstorms and high winds ahead of a small but intense cyclone known as a "Medicane" which is rarely seen in the Mediterranean.
Meteorologists said the weather system was expected to strike the southern coasts of Sicily and Calabria before moving eastward across the Aegean and Ionian Seas to Greece where it could bring winds of up to 160 kmh (100 mph) and waves as high as 12 metres (39 feet).
Schools in Athens and several other parts of the country were closed Friday, as heavy storms swept across the mainland and islands on Thursday.
Some ferry services from ports near the Greek capital resumed after being mostly halted for the previous two days, while the poor weather conditions also caused flight delays.
Greece's national weather service EMY said conditions were expected to worsen Friday, affecting the island of Crete, the Cyclades islands and parts of the southern and western mainland.
Temperatures plunged unexpectedly by up to 10 degrees Celsius
and gusting winds led to power cuts and tree falls in several areas of Greece. Firefighters received hundreds of calls for assistance to remove debris.
The authorities urged municipalities and citizens to be on high alert ahead of the storm dubbed "Xenophon" in Greek.
In Italy, Antonio Sano, founder of the weather site Meteo, said the cyclone was expected hit areas near Ragusa and Syracuse in southern Sicily and the Ionian coast of Calabria near Reggio, as well as Catanzaro and the province of Lecce in Puglia.
The eye of the cyclone would be out to sea but the worst impact was likely to be felt in Greece's Peloponnese and Crete early on Saturday. The cyclone is expected to pick up speed as it passes over the sea before moving on to the Cycladic Islands and reaching the East Aegean Islands early on Sunday.