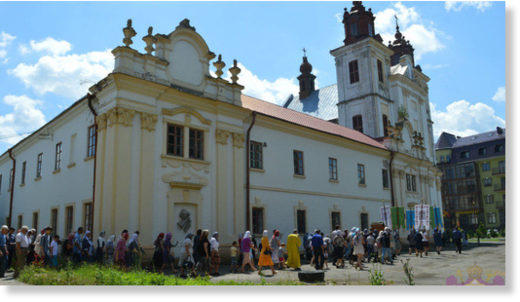 Radical nationalists have reportedly seized a church in western Ukraine, beating the faithful in the process. The violence comes amid expectations of a schism - threatening acknowledgement of an independent church in Ukraine.
According to a
statement
published on the website of the Moscow-subordinate canonical Ukrainian Orthodox Church, a group of Ukrainian radical nationalists seized by force a church located in the town of Bogorodchany in the Ivano-Frankovsk region of Ukraine.
The radicals overpowered local residents, who tried to stop their raid, beating some of the defenders before throwing them out of the church, the report said. One man had his arm broken while another receive a skull fracture, the statement said. The nationalists then replaced the locks on the doors of the church with new ones, it added.
The report of violence comes amid fears of religious tensions in the Christian community. The Christian Orthodox faithful is already split into three groups, with the Ukrainian Orthodox Church of the Moscow Patriarchate being the biggest. Two other churches are considered schismatic by the rest of the Orthodox churches, but that may change soon, since the Ecumenical Patriarchate of Constantinople announced it will soon recognize the existence of a canonical Orthodox Church independent from the Moscow Patriarchate.
The expected move angered Orthodox clergy in Moscow, who announced they were breaking diplomatic ties with Constantinople over its intentions
. Church officials fear it would lead to persecution of those Christians in Ukraine, who would refuse to pledge allegiance to the new church, among both common people and members of the clergy.
Ukrainian secular authorities have made seeking autocephaly (recognition of independence), for a church sympathetic to Ukrainian nationalism, one of their key policies. President Petro Poroshenko stated on numerous occasions that such a move would divide Ukraine further from Russia.
There is a mercantile dimension in the expected shift. The Ukrainian Orthodox Church of the Moscow Patriarchate has plenty of property in its possession, including historic church buildings, internationally recognized as national legacy. With expectations of a move by Constantinople peaking, some reports in the Ukrainian media indicated that lists of objects, which Kiev believes should be taken away and handed over to the new church, have already been compiled.
Violent takeover of property is a regular occurrence in Ukraine these days. Thugs may be hired to back a businessman's claims during ownership dispute, raid farmlands to seize harvest from rightful owners, raid construction sites and engage in other criminal activity.