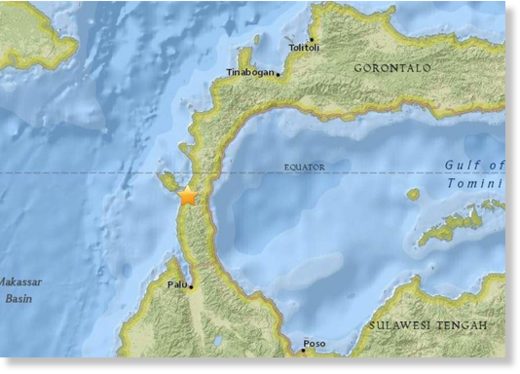 Earlier tremors destroyed houses, killing one person and injuring at least 10
A powerful earthquake has struck off the coast of Indonesia, triggering a tsunami warning.
The huge 7.5 magnitude quake was recorded near the island of Sulawesi, east of Borneo, the US Geological Survey said.
Authorities lifted an early tsunami warning within an hour, although officials warned those in the area to remain vigilant as a number of aftershocks hit.
The US Geological Survey initially reported the quake as magnitude 7.7, but later downgraded it to a 7.5 reading.
Earlier on Friday, a tremor measuring 6.1 on the Richter scale hit the same area, destroying several houses, killing one person and injuring at least 10, authorities said.
A series of earthquakes in July and August killed nearly 500 people on the holiday island of Lombok, hundreds of miles southwest of Sulawesi.
Indonesia sits on the Pacific Ring of Fire and is regularly hit by earthquakes.
In 2004, a big earthquake off the northern Indonesian island of Sumatra triggered a tsunami across the Indian Ocean, killing 226,000 people in 13 countries, including more than 120,000 in Indonesia.