Outspoken conservative actor James Woods was suspended from posting to Twitter over a two-month-old satirical meme which very clearly parodies a Democratic advertisement campaign. While the actor's tweets are still visible, he is unable to post new content.
The offending tweet from July 20,
features three millennial-aged men with "
nu-male smiles
" and text that reads "
We're making a Woman's Vote Worth more by staying home
." Above it, Woods writes "Pretty scary that there is a distinct possibility this could be real. Not likely, but in this day and age of absolute liberal insanity, it is at least possible."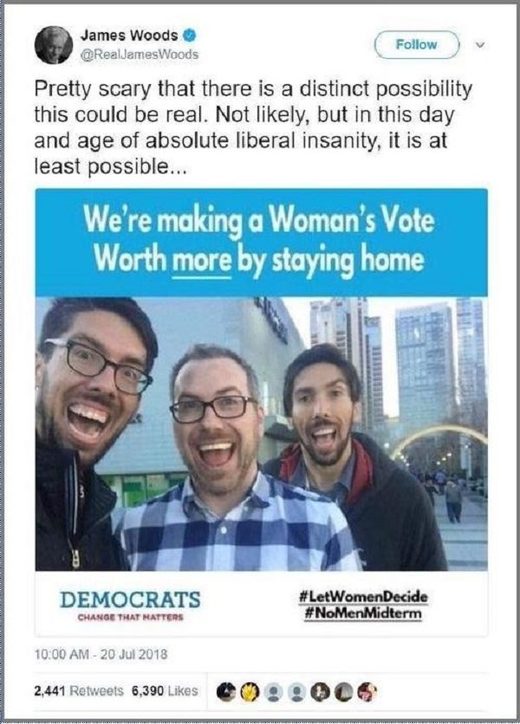 According to screenshots provided by an associate of Woods', Twitter directed the actor to delete the post on the grounds that it contained "
text and imagery that has the potential to be misleading in a way that could impact an election.
"
In other words, James Woods, who has approximately 1.72 million followers, was suspended because
liberals who don't identify as women
might actually take the meme seriously and not vote.
In a statement released through associate Sara Miller, Woods said "You are a coward, @Jack," referring to Twitter CEO Jack Dorsey. "There is no free speech for Conservatives on @Twitter."
Earlier this month, Woods opined on the mass-platform ban of Alex Jones, tweeting: ""I've never read Alex Jones nor watched any of his video presence on the internet. A friend told me he was an extremist. Believe me that I know nothing about him. That said, I think banning him from the internet is a slippery slope. This is the beginning of real fascism. Trust me."
Nu-males everywhere non-threateningly smirk at Woods' bad fortune...