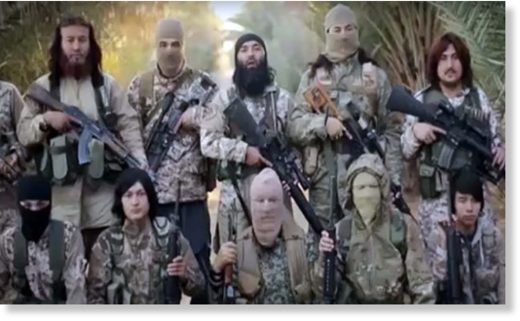 As Syria's last opposition-held bastion braces for attack from Russian-backed government forces, a reclusive community of Central Asian jihadis is digging in for a protracted fight.
The Uyghur Muslims from China, facing a crackdown in their home province of Xinjiang, form one of the more cohesive fighting contingents in Idlib province: the Turkistan Islamic Party.
"All indicators say they will play an integral role in defending Idlib," said Mohanad Hage Ali, an academic and journalist focused on Islamic movements. "The party has recently moved some of its forces to play a stronger role in defending the front line against regime attacks."
Tam Hussein, a journalist focusing on jihadism, says the Turkic Uyghurs, Uzbeks and other Central Asian jihadis who have now lived in Syria for years show no signs of looking for the exits.
"I'm not sure if they're crack troops. But it's fair to say they'll be some of the toughest guys because of what motivates them," Hussein said, adding: "They're jihadi in every sense of the word."
From the start of the insurgency in the neighboring Latakia countryside, the disciplined Central Asians, as well as Chechen battalions, generally refused to accept Syrians in their ranks unless they gave up vices like cigarette smoking.
Former Islamic State (ISIS) spokesman Abu Mohammed al-Adnani was known to surround himself with a "notorious" guard of Uzbeks before being killed in a US-led air strike in northern Syria in August 2016.
"The reason Uzbeks were known to be quite brutal is because they'd come from the dungeons of their home country and experienced barbaric torture," said Hussein, adding that Uyghur and other Central Asian jihadists traveling to Syria have generally done stints in prison.
While Syrian rebels have been willing to cut deals to vacate towns and relieve war-weary communities as the tide of war turned against them, foreign jihadis are generally insulated from such local pressures or concerns.
Read more...