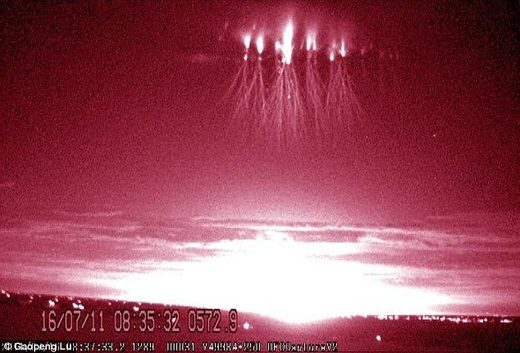 A new study has lifted the lid on the behaviour of unusual electrical discharges known as red sprites.
This striking form of lightning appears in the upper atmosphere, sitting above the thunderstorms themselves.
Now, scientists have
observed the 'parent' lightning strokes for dozens of red sprites over a storm in
China
, revealing new insight on how these remarkable phenomena are produced.
Sprites appear as vertical streaks above thunderstorms at an altitude of about 24 to 55 miles (40 to 90 kilometers).
They fall within what are known as transient luminous events (TLES).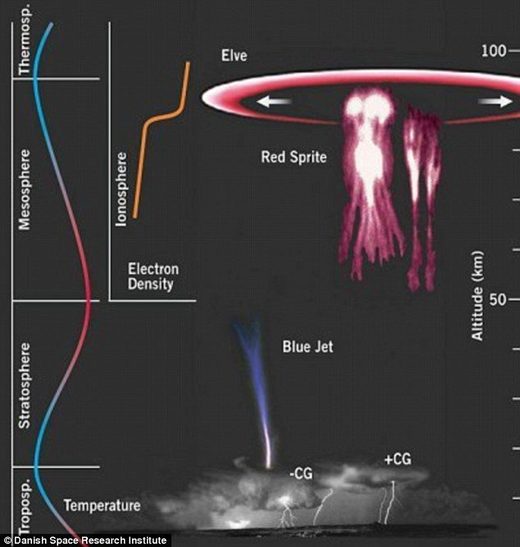 In the new study, researchers from the Institute of Atmospheric Physics of the Chinese Academy of Sciences studied red sprites over a storm that occurred on July 30, 2015 in Shandong Province, China.
These were observed using a long-baseline
lightning location network made up of very-low-frequency/low-frequency magnetic field sensors.
Based on the Lightning Effects Research Platform (LERP), the team was able to identify the parent strokes of more than 30 red sprites for that particular storm.
'This is
probably the most productive sprite-producing thunderstorm system ever reported in China
,' says Dr. LU Gaopeng, the corresponding author of the study.
The storm was what's known as a mesoscale convective system, in which

a group of thunderstorms act like a single system.
The researchers found that
the sprite producing lightning bolts occurred primarily during the system's mature stage, and
behaved similarly to those seen over North America and Europe.
In the continental US, researchers have found similar results in an analysis of more than 2000 sprite-producing strokes.
Transient luminous events such as red sprites include several different types of stunning phenomena, such as blue jets and so-called 'elves.'
Given their appearance above storms, however, they're difficult to study.
When they are spotted, it's often by pilots and even astronauts on the International Space Station.
'Satellites have probed them and observations have even been made from mountain tops but their viewing angle is not ideal for gathering data on large scales,' the European Space Agency explains.
'In contrast, the International Space Station's low orbit covers a large part of Earth along the equator and is ideally placed to capture the sprites and jet.'
The latest research sheds new light on the behaviour of these elusive phenomena occurring high above the surface.
WHAT ARE 'RED SPRITES'?



Red sprites are electrical bursts of light that occur above highly active thunderstorms.

They can be seen in the D region of the ionosphere - the area just above the dense lower atmosphere, about 37 to 56 miles above the Earth.

They show up red at higher altitudes and fade to blue at lower heights.

Atmospheric sprites have been known for nearly a century, but their origins were a mystery.

They only last a few milliseconds and are relatively dim compared with other lightning.

The late experimental physicist John Winckler accidentally discovered sprites, while helping to test a new low-light video camera in 1989.