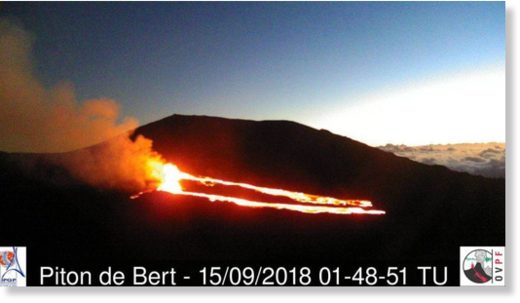 The 'Piton de la Fournaise' of Reunion Island, a French Indian Ocean Territory erupted at 4:25 am on Saturday, September 15, 2018.
The lava gushed on the south flank of the volcano in the 'Rivals' crater area. According to the volcanological observatory the seismic crisis began at 1:45am.
The volcano had given signs of awakening since the beginning of September. The eruption is visible from Piton Bert.
According to the information provided by the volcanological observatory, "the volcanic eruption is boxed in and limited to the 'Fouqué' enclosure, where the eruptive fissures have opened on the southern flank of the volcano in the region of the crater Rivals".
At least one crack of about 500 meters opened just below the site of the April 27, 2018 eruption.
At 4:45 last Saturday, the Prefect of Reunion triggered the alert phase 2-2 "eruption underway in the Fouqué enclosure" of the specific device Orsec volcano. Public access to the Fouqué enclosure, from the Pas de Bellecombe trail or from any other trail, as well as from aircraft in the volcano area, is prohibited until further notice. "A reconnaissance will be carried out and additional measures taken as soon as the eruption will be stabilized" specifies the prefecture.
Swelling of the base and top of the Piton de la Fournaise had been noted by volcanologists about ten days ago. "This recovery in inflation is accompanied by a low seismicity. This inflation is currently slow and its evolution will be to follow in the coming days" had then stressed the volcanologists. The eruption is visible from Piton Bert.
The Observatory warns on its Facebook page: "Before starting the march towards the Piton de Bert, do not hesitate to consult the weather on the webcams of the OVPF".