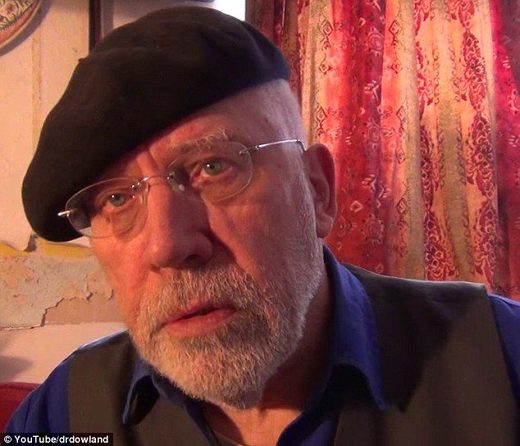 A chemical weapons expert who appears on the Russia Today TV news channel has been arrested after officers discovered potentially hazardous materials at his home in Devon.
Former research scientist Dr Chris Busby -
an outspoken critic of the British Government's handlings of the Salisbury poisoning
- was held after officers reported feeling unwell during a raid on his property yesterday morning.
Police had initially targeted the address in the sleepy seaside town of Bideford over concerns for a woman's welfare.
However officers complained of feeling unwell and were immediately checked over by an ambulance Hazardous Area Response Team and fire crews.
A search of the property found items required analysis from specialist officers and a bomb disposal team.
Devon and Cornwall Police said there is not believed to be any risk to the public, and
the officers treated are unharmed
and have returned to duty.
They are not linking the incident to the attempted murder of former Russian spy Sergei Skripal and his daughter Yulia in Salisbury in March.
Dr Busby, 73, is said to have his own laboratory at home and
supposedly
keeps, among other items, samples of radioactive mud taken near the Sellafield nuclear plant in Cumbria.
Neighbours of Dr Busby today told how police arrived at the address when he was having a row with his partner before officers searched the address.
One said: 'He comes over as quite an eccentric guy. All we know is that he's a retired scientist who keeps himself quite private. There's a woman living in there with him.
'I saw them both arguing with a police officer outside their front door when it all kicked off.'
Another said: 'It was pretty disconcerting to have the army bomb squad, along with dozens of police and firemen, turn up. It's usually so quiet along here.
'On the other hand if any house in Bideford was going to be the subject of an explosives scare you'd have put money on it being this one.'
A nearby shopkeeper said Dr Busby was often seen strolling around the narrow town centre lanes wearing his distinctive black beret.
'Bideford being the place it is there are already rumours about a Novichok incident,' she added.
'But it can't be that serious because he was back at the house with a police officer today.'
A statement from Devon and Cornwall Police said: 'Whilst at the address, some of our officer complained of feeling unwell and were immediately removed from the scene and a cordon put in place.
'The ambulance Hazardous Area Response Team (HART) attended and treated these officers, all of whom are unharmed and have since returned to duty.
'Following searches within the property,
a number of items were found which require expert analysis
from specialist officers and an Explosive Ordnance Disposal (EOD) team.
'The house has been evacuated and enquiries are ongoing at the property.
'Officers have sought specialist advice and it has not been deemed necessary to evacuate any other properties; there is not believed to be any wider public risk at this time.'
Police have said that a 73-year-old man has been detained under the explosives act but will not confirm or deny that he is Dr Busby.
Dr Busby is one of the experts
used by the Kremlin-backed Russia Today
news channel, which today broadcast an interview with the two suspected novichok hitmen Alexander Petrov and Ruslan Boshirov

Comment: In other words, he is one of the scientists who agrees to news interview requests from RT. How many scientists are "used by" British state-backed BBC?


Dr Busby has previously accused the U.S of using depleted uranium weapons in Iraq causing cancer and birth defects.
He has also appeared in YouTube videos blaming the assassination plot to poison former Russian spy Sergei Skripal and his daughter Yulia with the nerve agent Novichok as a 'false flag' operation.
He believes the pair were really targeted by Britain or the U.S, who he has accused of trying to frame Russia because they fear President Vladimir Putin is beginning to break up the American monopoly on oil.
In one video he says: 'Just to make it perfectly clear, there's no way that there's any proof that the material that poisoned the Skripals came from Russia.'