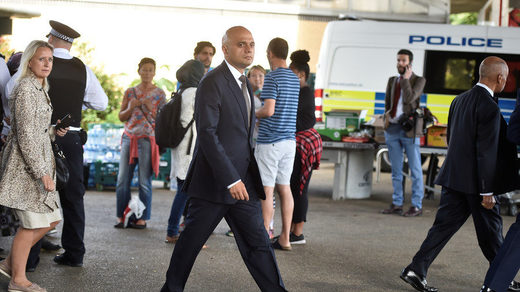 Sajid Javid is to launch an inquiry into "cultural drivers" behind grooming gangs. The home secretary referenced cases in Rotherham, Rochdale, Oxford, Newcastle and Telford in his speech on child exploitation in Britain.
"We've witnessed horrendous abuse perpetrated by gangs who have been persistent and determined in places like Rotherham, Rochdale, Oxford, Newcastle and Telford," said Javid speaking at the headquarters of the NSPCC in London.
"Keeping our children safe will be my mission as home secretary. I have already been clear that I will ask difficult questions about the gangs who sexually abuse our children. There will be no no-go areas of inquiry. I will not let cultural or political sensitivities get in the way of understanding the problem and doing something about it.
"We know that in these recent high-profile cases, where people have been convicted, that those people are disproportionately from a Pakistani background. I have instructed my officials to explore the particular context and characteristics of these types of gangs and if the evidence suggests that there are cultural factors that may be driving this type of offending, then I will take action."
Numerous, high-profile ongoing criminal investigations are being carried out into child exploitation in the UK.
Javid's speech follows research from the Quilliam think-tank which claimed 84 percent of those convicted, since 2005, of child grooming offences were from an Asian background. White offenders were more likely to act alone while Asian offenders often worked in gangs, the research posited.
Investigators into the Rotherham grooming-gang suggested that there could be up to 1,500 victims.
So-called grooming gangs are just one of many forms of child exploitation and abuse, with police noting 'county-lines' drug dealing gangs, online grooming and the abuse of personal relationships as significant threats to children.
More child sex offences committed online are being recorded; the National Crime Agency estimates that 80,000 people pose a threat to children online.
In his speech, Javid urged more action from technology firms to combat images of child sex abuse. The home secretary wants the images to be treated with the same severity and scrutiny as terrorist propaganda.
Javid even hinted at the introduction of new, unspecified laws that may be passed if action was not taken.
"In recent years there has been some good work in this area, but the reality is that the threat has evolved quicker than the industry's response and industry has not kept up. There are some companies out there that refused to take this seriously.
"I am not just asking for change, I am demanding it. And the public is expecting it too.
"And if web giants do not take more measures to remove this type of content from their platforms, then I won't be afraid to take action. How far we legislate will be informed by the action and attitude that the industry takes."