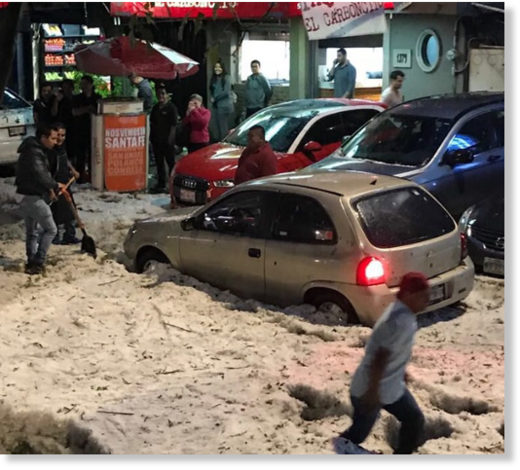 A hailstorm that arrived Monday in parts of the state of Mexico pounded the region so severely that traffic was affected.
Some areas received hail that accumulated to resemble that of a small snowfall, lodging cars in place, leaving people to walk the rest of their journey. The hail was also enough to paralyze public transportation systems, leaving even more to walk the long distance to their work places.
The hail affected several areas, however, the municipalities of Huixquilucan and Naucalpan were affected the most.
The heavy rain caused several cars to be trapped in the water-hail mix, requiring shovels to dislodge them
.
Other damage from the storm was reported including fallen trees. In Cuajimalpa, a red alert was triggered by the heavy rain and hail.
The Road Information Center of the Ministry of Public Security of Mexico City reported hail road damage in Prolongación Bosques de la Reforma and Avenida Secretaria de Marina.
Civil Protection of Mexico City activated an orange alert for Álvaro Obregón, Magdalena Contreras and Xochimilco and a Yellow Alert in the delegations Azcapotzalco, Coyoacán, Cuauhtémoc, Gustavo A. Madero, Iztapalapa, Miguel Hidalgo, Tláhuac, Tlalpan and Venustiano Carranza
Tomás Flores, official of the Water System of Mexico City, said that the extraordinary rain fell around 7:00 p.m. Monday. The work to clear the area of Cuajimalpa lasted for several hours.
He said that in some areas, the hail accumulated to a depth of between 60 to 70 cms.
On Tuesday, heavy machinery was used in some area to finish removing the deeper piles of hail. To remove these amounts of ice worked until the first minutes of this Tuesday and occupied heavy machinery.