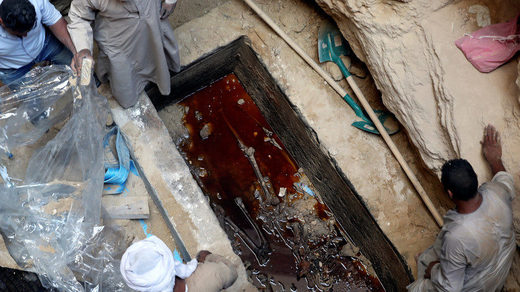 The Egyptian Ministry of Antiquities has released details about the skeletons found inside the mysterious sarcophagus unearthed in July and opened despite all the warnings about the ancient curses it might unleash.
The ominous black granite sarcophagus, dating back to up to the 4th century BC, was excavated in Alexandria to the protesting cries of Twitter doomsayers everywhere, and was found to contain no curses - at least, no readily-evident ones. Instead, inside were three skeletons floating in icky dark fluid (
which an impressive number of people want to have a sip of
).
On the more scientific side, the skeletons have now been studied by a team of scientists from the Antiquities Ministry, who have determined their age, gender and other details. While not really the stuff of a fresh 'Mummy' reboot, the findings are still interesting. They've been posted, along with photos of the bones, on the Antiquities Ministry's Facebook page.
The skeletons belong to two men and a woman, all different ages. The woman was the youngest, 20 to 25 years old and 160 to 164 cm (slightly over 5 ft) tall. One of the men was 35 to 39 years old and only marginally taller, while the other one was the oldest, at 40 to 44 years, and also the tallest, at an impressive 179 to 184.5 cm (around 6 ft).
Small gold plates were also found
among the bones. Measuring about 5cm by 3cm (about 2in by 1in), the plates
feature delicate artwork
that may refer to military ranks, according to researchers cited by Ahram online. The plates are now being studied in more detail.
Another peculiarity the Egyptian scientists have discovered is
a hole in one of the men's skulls.
The hole was not the cause of death, however, since its condition indicates that the person had survived for a long time with it. Instead, the scientists say, it's the result of
trepanation
, an ancient form of surgery.
"This surgery is the oldest surgical intervention ever known since pre-history but was rare in Egypt," Dr. Zeinab Hashish, the head of the researchers' team, said. She added that
only a few skulls from ancient Egypt were found to have undergone the procedure.
Comment:
Interestingly, trepanation was practiced by people throughout the ancient world:
Trepanation has been practiced for millennia to treat cranial diseases and, in some cases, what was considered abnormal behavior. A hole was drilled or scraped into the patient's skull, which was sometimes believed to release evil spirits posessing the person. Trepanation is indeed
effective in relieving blood pressure and swelling
, and is used to treat those symptoms in modern-day medicine.
More studies are now being performed on the bones, including DNA analysis and CT scans, to determine whether they were members of a single family.
The dark liquid found in the sarcophagus
is also being analyzed, and scientists have confirmed that it is, indeed,
sewage water
tinted by the corpses' decayed wrappings.