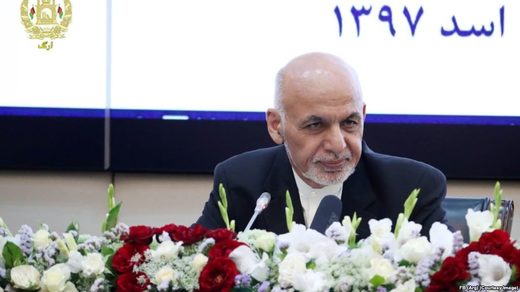 Afghan President Ashraf Ghani has called a "conditional" cease-fire with the Taliban to mark the Eid al-Adha holiday.
The cease-fire will commence on August 20 and run for three months, Ghani said during an Afghan Independence Day ceremony on August 19.
"We announce a ceasefire that would take effect from tomorrow, the day of Arafa, until the day of the birth of the prophet [November 19], provided that the Taliban reciprocate,"
Ghani said.
He did not say whether Taliban authorities had agreed to the cease-fire.
The Kabul government and the Taliban had declared a three-day cease-fire in June coinciding with the Eid al-Fitr holiday.
The brief cessation of hostilities was the first ever between Kabul and the Taliban, and although fighting has resumed, the respite increased optimism that the sides could reach some final peace deal.
Eid al-Adha, which officially begins on August 21, and Eid al-Fitr, which marks the end of the holy Muslim month of Ramadan, are the two most important festivals in the Islamic calendar.