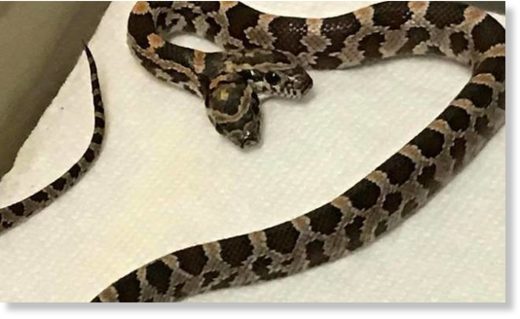 A little over a month ago, a snake egg began hatching at The Pet Zone and two little heads popped out of the shell.
Bill Pambianco Sr. and his son, Bill Jr., thought it was twin snakes. But, it was something much different.
"There was two heads sticking out and we thought it was twins but, as it emerged a little more, we saw it had two heads," Bill Jr. said. "There was no inclination; it was just a random thing that happened. We did not know that it was going to be two-headed."
According to Bill Jr., manager of the Pet Zone and a reptile enthusiast, there is a 1 in 100,000 chance of a two-headed snake hatching.
Bill Sr. is the store's owner and said to have something like this happen in the 33 years he's been in business is extraordinary.
"We're really excited about it," Bill Sr. said.
"It's something very, very rare.
I don't know what the stats are but I would say in Pennsylvania, I don't know if there was another one born. I know some of the southern states that's where most of them come from, but up this way I'm not sure if anyone has ever bred one in Pennsylvania."
The odds of breeding a two-headed snake are rare, but the odds of one surviving are even greater, as Bill Jr. said 1 in every 10 million survive their first two weeks of life.
This snake, whom they've named Gemini, has already passed that mark and Bill Jr. said if they can get it past the six-month mark, it should live a decently long life.
"This is a deformity and usually there's problems with the lungs or the hearts, or something like that," he said. "So far, it's gone to the bathroom for us, it's eaten for us and it's been doing very well for us."
Bill Jr. noted so far only the right head is eating, but that's no cause for concern as he's been told by other two-headed snake owners that eventually the left head will eat.
He also noted, as long as one head is eating, the proper nutrition is still being acquired.
"They're both getting nutrition that way because they have one stomach and they have one heart," Bill Jr. said. "There is still nutrition going through the animal, so I'm not concerned about the one head not eating."
Bill Jr. said the longest a two-headed snake has lived is 13 years, and he's spoken with other breeders who had two-headed snakes to get tips on how to keep the snake alive.
"Basically, there is no magic bullet," he said. "It's just feed the snake, take care of it and watch it. There's no book on this because it doesn't happen a lot. Just be happy and hope it works out."
Because the snake is so young, it is not on display at The Pet Zone store but it will be if it can get past that six-month mark.
Bill Sr. said he and his son have no intention of selling the snake as of right now.
"Having a snake like that here is good for us and it brings people in," he said. "It's a good business tool and we can probably do more with it here than sell it. It's going to bring a lot of people here once it gets bigger and we can put it out on display. Once it's a few months old and starts growing, then we'll put it out on display."