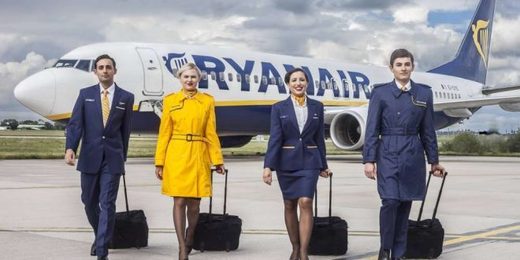 More than 70,000 passengers have had their
Ryanair
flights cancelled today as a result of the biggest strike in the airline's 34 year history.
Pilots across Europe have coordinated a day of industrial action on what is one of the busiest days of the summer.
The airline said that 250 flights into and out of Germany have been cancelled, along with 104 flights serving
Belgium
, 22 services to and from Sweden, and 20 between Ireland and Britain.
Ryanair has declined to say which specific flights have been grounded, or how many UK departures have been cancelled, but
The Independent
estimates that up to 100 British flights, and 18,000 passengers, could be affected.
Berlin
Schöenefeld, Gothenburg and Stockholm Skavsta have seen the majority of Ryanair services grounded.
The worst-affected British airports are Stansted and Manchester, with multiple cancellations to and from Berlin, Nuremberg, Gothenburg and other destinations.
Some Gatwick, Birmingham and Bristol links with Dublin have been grounded. Other cancellations include Bristol to Cologne and Glasgow to Berlin.
Irish pilots are staging their
fifth one day strike
in a dispute over base transfers and seniority issues. Both sides have agreed to third-party negotiation, but only once the strike is over.
In Germany, flight crew are striking for better pay and conditions. Their union, Vereinigung Cockpit (VC), said: "Ryanair alone is responsible for the escalation that has now occurred.
"VC regrets the impact on affected passengers, cabin crew and ground crew."
Pilots in Sweden, the Netherlands and Belgium want to be employed according to local law rather than on Irish contracts.
Ryanair has
tweeted
: "Despite the regrettable and unjustified strike action taking place in five of our 37 markets, over 2,000 Ryanair flights will operate as normal, carrying almost 400,000 passengers across Europe.
"We ask the striking unions to continue negotiations instead of calling any more unjustified strikes."
The airline has warned investors that more strife is likely, saying: "There may be a push for legacy type working conditions, which if acceded to could decrease the productivity of pilots, increase costs and have an adverse effect on profitability.
"Ryanair intends to retain its low-fare/high people productivity model. However, there may be periods of labour unrest as unions challenge the existing high-productivity model which may have an adverse effect on customer sentiment and profitability."
The International Transport Workers' Federation, which is coordinating strikes by the airline's pilots and cabin crew across Europe, said: "Ryanair has a long way to go before it can be considered a fair employer. Calls for industrial action will continue until the company makes good collective bargaining agreements with unions."
The airline's practice of pre-emptively cancelling a large number of flights is designed to protect its subsequent schedules.
Planes and pilots are expected to be in the right positions for the start of operations on Saturday.