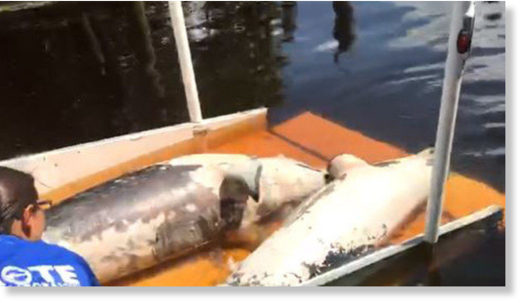 Nine dead bottlenose dolphins have been found since Tuesday in Sarasota County. Red tide is suspected in their deaths.
Mote Marine staff has been working long hours responding to reports of dolphins. manatees, sea turtles and other marine life that has been killed or sickened by red tide in southwest Florida. They do not think the red tide problem is going to end anytime soon.
Mote Marine Laboratory will be conducting autopsies on the dolphins with the hope of learning what killed them.
The dolphins were found in the following locations:
2 dolphins were found the night of Aug. 7 on a Gulf of Mexico beach in Venice.
1 dolphin was found the morning of Aug. 8 on Intracoastal Waterway near Snake Island in Venice.
1 dolphin was recovered from Caspersen Beach on the morning of Aug. 8.
1 dolphin was reported floating along North Casey Key Road in Nokomis.
1 dolphin was discovered floating off mid-Casey Key.
1 dolphin was recovered the night of Aug. 8 into the early morning of Aug. 9 on Siesta Key.
1 dolphin was recovered the morning of Aug. 9 on Siesta Key.
1 dolphin was recovered the morning of Aug. 9 on Casey Key.
Of the nine dolphins recovered since Aug. 7, three are males, four are females and the sex of the other two is being confirmed.
All nine dolphins were found moderately to severely decomposed which is complicating efforts to collect samples for analysis.
The waterways off Sarasota, Charlotte, Lee and Collier counties have been heavily impacted by red tide.
Manatees, turtles and thousands of fish have also washed up on beaches, many were dead. Many sea turtles have died from red tide, according to Gretchen Lovewell with Mote Marine Laboratory.
"We're preparing for it to continue," she said. "We're planning for the worst. We do not see an end in sight.... This is one of the most intense events I've worked in," Lovewell said.
Lowell said that that they can try to save the lives of some marine animals if they can get to them while they're still alive.
She thanked citizens for being diligent and contacting them when they discover deceased or sick animals. She said manatees and sea turtles who have been impacted by red tide will almost appear drunk. They have facial ticks and do barrel rolls and will also suffer seizures.
As of Aug. 8, FWC has received more than 300 fish kill reports associated with the current red tide bloom.
FWC has been monitoring the red tide bloom since November of 2017. FWC says it has processed 7,397 water samples.