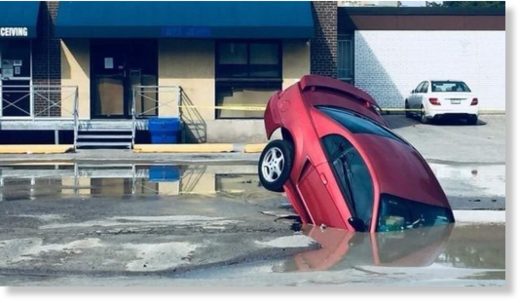 No injuries were reported after a car fell into a sinkhole in Toronto's Weston neighbourhood early Tuesday morning.
Toronto police say they were first alerted to a watermain break on Pine Street, just south of Lawrence Avenue, at around 4 a.m.
A few hours later, police say they received calls from concerned residents who said the water rushing from the watermain break had created a sinkhole.
Though it's not clear when the car drove into the hole, police say it has since been removed with the help of Toronto Fire Services.
Residents on Pine Street took photos of the red sports car tipped headfirst into the hole and provided them to CP24. The vehicle appears to have sunk relatively deep, with the water level resting near the car's rear wheels.
A portion of Pine Street was closed to traffic once city crews arrived this morning. The area reopened at around 2:30 p.m
Toronto Hydro workers are also on scene as some residents have reported that their electricity has been impacted by the situation.