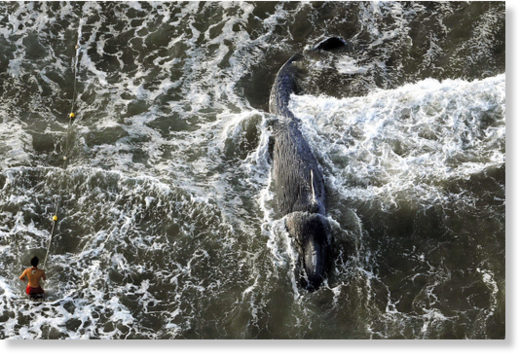 A dead whale measuring 10.6 meters washed ashore here Aug. 5, stunning hordes of sun-worshipers at popular Yuigahama beach.
Experts from the Enoshima Aquarium in Fujisawa, also on the Pacific coast of Kanagawa Prefecture, said the animal was believed to belong to the baleen whale family.
The whale was spotted around 2:30 p.m., having apparently died at sea.
Experts from the city government's tourism section and the Enoshima Aquarium rushed to the scene after police were alerted to the whale's presence.
It washed up near the west end of the beach.
The 49-year-old owner of a nearby surfer shop said he had never heard of a dead whale washing ashore in the area before.
Whale sightings, however, are not rare in Sagami Bay, which stretches along Kamakura, Fujisawa and Odawara in Kanagawa Prefecture and Atami in Shizuoka Prefecture, according to the aquarium.
An aquarium official noted that a dead whale was found stranded at a beach in Fujisawa in June.
"There was a report of a whale floating offshore but not moving," the official said. "It is unclear whether that whale died of disease or injuries, but it was dead by the time it reached the shore."