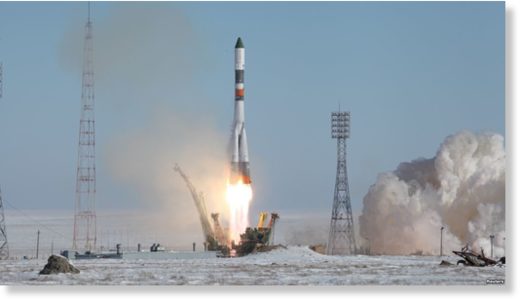 A Russian Progress cargo spacecraft on a Soyuz booster carrying supplies for the International Space Station crew has successfully completed its record-breaking two-orbit trip in less than four hours.
The Progress MS-09 blasted off atop a Soyuz-2.1a rocket at 21:51 GMT Monday from the Baikonur Cosmodrome in Kazakhstan. Some 1.5 hours and several thruster firings after liftoff, the spacecraft's onboard computers initiated the automated rendezvous sequence. The craft completed its radar-guided docking with the station's Pirs module at 01:31 GMT Tuesday.
It was the third attempt to execute the short two-orbit flight scheme for the Progress MS freighter, which required a coordinated effort to realign the orbit of the ISS.Two previous attempts were hindered by delays in the final moments of the countdown that exceeded narrow launch opportunities for the fast-track flight.
Russian cosmonauts Oleg Artemyev and Sergey Prokopyev were on board the station and ready to take over manual control of the craft should any problems occur, but the docking proceeded in a fully automatic mode. The craft has brought over 2.5 tons of water, fuel, food and other supplies, extending the entire crucial provision supply to at least mid-January 2019.