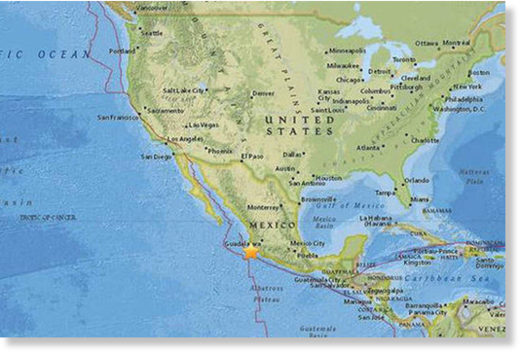 An earthquake measuring 6.1 magnitude has struck the Pacific coast of Mexico, the United States Geological Survey has reported.
It hit 55 miles south-west offshore from Cihuatlan, in Jalisco state, around 4.55am BST.
The USGS estimated the depth of the tremor at around six miles.
Luis Felipe Puente, head of the country's Civil Protection agency, said on Twitter that the quake had been felt only lightly and that there were no reports of damage so far.
The agency is continuing to monitor the situation.
Mexico has suffered a series of more powerful earthquakes in recent months.
Back in September last year, two killed hundreds of people and brought buildings crashing down.
Earthquakes are common in Mexico because it sits on top of the devastating Ring of Fire.
It's a series of fragile fault lines that stretches from New Zealand, all around the east coast of Asia, over to Canada and the US then all the way down to the southern tip of South America.
The region is a chain of volcanoes and intense earthquake tremor zones along the rim of the Pacific Basin.