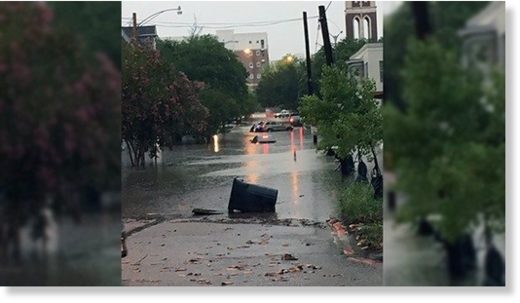 A flash flood warning was issued around 6pm local time (12.00am GMT), and many areas in Downtown Baton Rouge and in the north of the city have experienced severe disruption.
One social media user named Carey Darcey said: "Baton Rouge is flooding again. Get the boats ready!"
Rebekah Allen added: "Cars are turning around on Government Street by the Garden District because of flooding."
Weather radars estimated the region would witness three inches of rain in some areas in less than an hour.
As of 7pm local time (1am GMT),
around 4,500 residents have been left without power in east Baton Rouge.
Many vehicles have also been abandoned in rising flood water across the city, and numerous roads have been closed.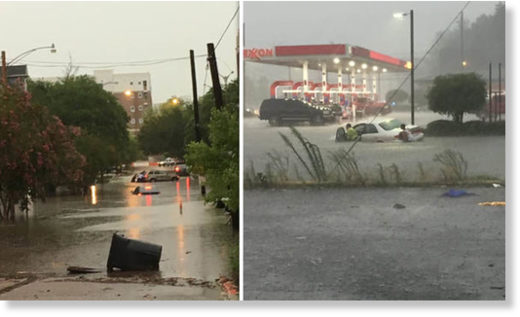 Steve Caparotta, a meteorologist at Baton Rouge news station WAFB, said: "People having to try and push their vehicle after stalling in the flood waters near Florida and Acadian."
Talking directly to drivers entering flooded areas, he added: "Simple message here; Turn around, don't drown!"
The flooding caused the I-110 road to be closed in both directions, close to N22nd Street and the Governor's Mansion.
Rain nevertheless appears to have become lighter across the city, but danger remains for residents and drivers entering flooded areas.
Southern Louisiana is prone of heavy flooding, and the region witnessed one of the worst deluges in recent US history in 2016.
Many rivers and waterways reached record levels, and rainfall exceeded 20 inches in numerous areas.
Thirteen people were confirmed dead as a consequence of the flooding, and an estimated 146,000 homes were damaged across Louisiana.