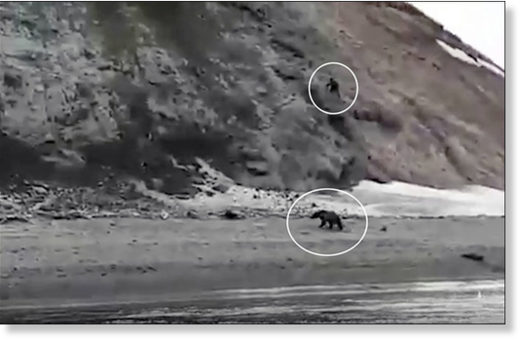 Hungry beast's attack seen by anglers on other shore who shouted to warn him, but could do nothing to help.
Dancer and fisherman Sergey Zhirkov's panic-stricken last moments were filmed by horrified onlookers as a bear helped itself to his fish and ripped apart his boat.
The 31 year old man from Kovran in the north of Kamchatka had climbed the steep river bank to get a phone signal to tell his friends to come and collect him after his fishing expedition.
A bear then clambered into his boat on the shore, ripped it apart, and ate his fish.
Sergey got so nervous that he started to throw stones at the bear, trying to scare the animal away.
The bear retreated at first, but then came back and chased Sergey first up the hill, and then down into the river.
Fisherman on the other bank shouted warnings to the terrified man.
With the predator squaring up, Sergey - wearing long boots - backed away from the beast into the cold stream.
He tried swimming across the river to reach a rope thrown by the other fisherman but he was overcome by the current and cold and was swept downstream.
'Sergey's body was washed ashore early this morning after it was taken into the Sea of Okhotsk. The bear ran away, we have not managed to trace him', said Irina Kvasova, head of Kovran village administration.
The village of Kovran is situated in the west coast of Kamchatka peninsula, some 683km north of regional capital Petropavlovsk-Kamchatsky.
The village's population is 250 people.
Sergey had been a dancer with the prominent Elvel ensemble in Kamchatka.