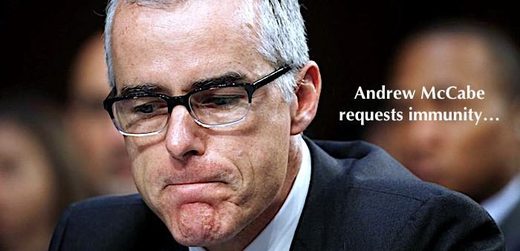 As TGP previously
reported
in February, according to Mike Cernovich,
McCabe altered far left FBI investigator Peter Strzok's 302 notes on his interview with General Michael Flynn.
And then McCabe destroyed the evidence.
Now Senate investigators suspect McCabe altered his 302 notes on General Flynn and have referred the matter to Inspector General Horowitz.
According to investigative reporter, Paul Sperry, now Senate investigators suspect McCabe edited General Flynn's 302's. Sperry tweeted: Senate investigators suspect Gen. Flynn's 302s were edited by McCabe, referred matter to IG Horowitz
To make matters worse, dirty cops McCabe and
Comey cleared Sally Yates to use Peter Strzok's altered 302 summary report
of the interrogation with General Flynn to brief White House Counsel and pressure Flynn's firing.
Senate Judiciary Chairman Chuck Grassley is the one who pressured the FBI and DOJ to turn over the 302 notes on General Flynn's investigation.
On Friday May 11, 2018, Senate Judiciary Chairman Chuck Grassley (R-IA) sent a
letter
to FBI Director Christopher Wray and Deputy AG Rod Rosenstein
stating Comey testified the FBI didn't think General Flynn lied.
Grassley also revealed
Joe Pientka was the second FBI agent who joined Peter Strzok on January 24th, 2017 in an ambush style interview to take down General Flynn.
Rosenstein refused to give the Senate Judiciary Committee the requested documents. Instead, Rosenstein provided "insufficient" documents prompting Grassley to send a second scathing letter to the Deputy AG.
It appears
Senate investigators have finally received the 302 notes
or evidence confirming Cernovich's February scoop that the FBI summary on Flynn's interview was altered by McCabe.
McCabe is now requesting immunity in exchange for his testimony. No deals! Prosecute and put him in prison!