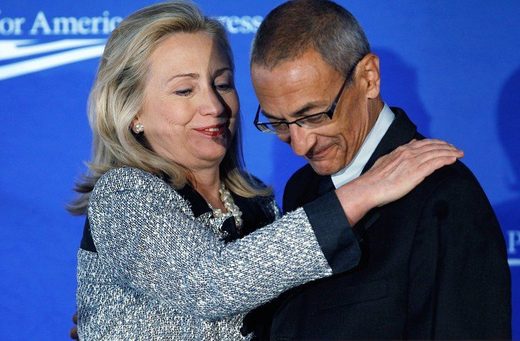 It has been quite some time since I have reported on John and Tony Podesta. Tony Podesta has literally disappeared from public view. As far as John Podesta, he does tweet now and again.
Judicial Watch has received access to new emails coming from John Podesta. The emails prove
John Podesta lied when he said he was not affiliated with the Podesta Group
.
There are documents from the U.S. Department of State showing the Podesta Group working on behalf of the pro-Russia Ukrainian political group "Party of Regions."
The documents also reveal then Obama White House Counsel John Podesta
lobbying on behalf of his brother's firm
. Plus, he was, in fact, embroiled with a pro-Russia Ukrainian political group called the "Party of Regions."
Was this not grounds for an investigation on John Podesta? I would say so!
The emails can be read at
judicialwatch.org
.
In examining the emails, we clearly see they are more than incriminating - they expose a plot behind the scenes in which
John Podesta, using his power as White House Counsel, seeks to expand the gains of his Lobbying firm, The Podesta Group
.
In fact, he was paid a huge sum from a Russian Company while working in the Obama White House. In the below video, he was confronted by Fox News host, Maria Bartiromo about what he received from a Russian company.
She literally tears him a part, but he holds firm saying he did not receive anything.
Maria Bartiromo began by asking John Podesta about the meeting he had with the House Intelligence panel.
Then pow! She goes for Podesta's jugular when she points out that the Democrats have deeper and stronger ties to Russia!
He stumbles around with his speech, as only John Podesta can do. She took him by complete surprise.
Bartiromo - "John, I gotta ask you about your own ties to Russian entities. You joined the board of a small energy company in 2011, 2 months later a Russia entity directly funded by the Kremlin invested $35 million in the company.
You were given 75,000 shares in a Russian company which you failed to disclose when you became an Obama associate.
"
I have never seen anyone squirm like John Podesta, as this extraordinary woman grilled him, and she did not let up.
He responded with a blatant lie - "Maria that's not true! I fully disclosed it and was fully compliant, and by the way, I divested before I went to the White House."
Maria would not let up. "But where did you divest it, John?
Why do people say you divested to your adult children?
"
Podesta spit fire and accused Maria of "picking through his emails that were stolen by the Russians and released by Wikileaks."
Maria Bartiromo did the world a service by exposing this violation which John Podesta clearly did, but clearly lied about.
This is inexcusable, and there should have been a valid investigation into this blatant violation of his role as White House counsel.
...
Maria Bartiromo slammed him over his lies and ties to the Russians. She even brought up Hillary Clinton's Uranium One deal, selling 20% of U.S. Uranium to Russia while she was Secretary Of State.
Podesta, of course, took advantage of his stock options and as a result gained "75,000 common shares" as a result of being a member of the executive board of energy company, Joule Unlimited.
Joule Unlimited received millions from a Putin/Russian government fund. Yet, no one ever investigated that.
Podesta quietly transferred his gains to his daughter, Megan Rouse, his shares of common stock in this company. And her husband is an official with the FBI - keeping everything in the family. Podesta will never be touched.
John Podesta conspired with mainstream media. MSM reporters were working behind the scenes with Hillary advisers. The below emails show that as early as December 2015 Podesta discussed Trump's "bromance with Putin" and the potential for using it as a means to slander Trump.
wikileaks.org/podesta-emails/emailid/25651
From:brentbbi@webtv.net

To: john.podesta@gmail.com

Date: 2015-12-21 12:09

Subject: Re: HRC, Obama and ISIS

That's good, sooner it's clarified the better, and the stronger the better. Re the Trump ISIS video, if we don't have the proof campaign should assign 100 people to look for it ASAP, there is probably something on tape somewhere.

p.s. On the UN last week, support it yes, but be careful. I love Kerry like a bro' and support him always as HRC should and does. But be careful about the U.N., support but don't go too far. Putin did not agree to anything about removing Assad and continues to bomb the people we support. We pushed the same position in 2012 (Geneva 1, which HRC knows all about) and Geneva 2 in 2014. Odds that Putin agrees to remove Assad are only slightly better than the odds the College of Cardinals chooses me to someday succeed Pope Francis.

Best approach is to slaughter Donald for his bromance with Putin, but not go too far betting on Putin re Syria. Brent

Sent from my iPad

On Dec 21, 2015, at 9:00 AM, John Podesta john.podesta@gmail.com<mailto:john.podesta@gmail.com>> wrote:

Her reference was not to ISIS but to going after Assad diplomatically because of UNSC resolution passed Friday. We will make that clear. She has given two major speeches about how we are NOT where we need to be on ISIS.

On Monday, December 21, 2015, Brent Budowsky <brentbbi@webtv.net<mailto:brentbbi@webtv.net>> wrote:

Walk back and escape from her statement that "finally we are where we need to be" against ISIS. We are not where we need to be, we are far from it, most voters do not believe it, and when the next terror attack comes in America- which it certainly will--she will be branded in hot iron with that statement.

Does she really want to co-own the Obama-Clinton ISIS strategy?

She will never state what I believe we need to do-at least 20,000 ground troops with 3,000 American and at least 10,000 from Sunni Muslim nations- because she is consumed with keeping Obama's goodwill and afraid of liberal backlash.

But at the least she should not be branding and infecting herself with Obama's policy towards Syria and ISIS by offering such high and direct praise for it. If she believes there will not be any more terror attacks between now and November 2016 it is the right strategy. If I am right, and there will be more terror attacks in America before the election, this strategy could be a death ray to her candidacy in a general election.

She can praise Obama without such extravagant overstatement and such direct endorsement of his policy by falsely stating we are where we need to be. She can praise him but every time she does she should immediately follow it with positive reminders of the success of the Bill Clinton presidency. Every time she mentions Obama positively, follow it by mentioning Bill Clinton a bit more positively. And when possible mention JFK as well. She does NOT want to run for Obama's third term on ISIS and Syria to continue the Obama-Clinton policy against ISIS.

She appears locked into a tactical approach which is a Democratic version of the Richard Nixon strategy in the 1960's and 1970's--move left before the primaries before the nomination and then move right before the general election after the nomination. This approach no longer works in the current media and political era where brands, images and perceptions become locked in forever much earlier in the process than the old era where news moved slow and three television networks were the source of 90% of the news.

I suspect her negative trust ratings are locked in through election day. If there is a Trump ISIS video the campaign release it. If not, her untrustworthy numbers will remain further locked at high levels. These trust problems are self-induced and keep occurring.

The best single move to elect her would be a massive voter registration and organization drive. Expand the electorate so more voters will vote so her low trust ratings generally will have less pro rated impact, and the number of higher trust voters will be newly registered. Most of the consultants will oppose this because they do not get paid for registering voters to elect candidates, they get paid for other things such as television ads whether those ads are effective or not.

It is no coincidence that this year Trump runs no ads, while Jeb and Hillary run the most ads with little effect. Voter registration by contrast creates real voters and changes-and improves-the playing field itself. There is no ad on earth that will increase her trust ratings or the enthusiasm of her voters the way a mega-registration project will increase her support on election day.

As for ISIS, the mathematically worst place for her to be is co-owner of the Obama-Clinton policy. Obama could destroy her candidacy the same way Democrats lost control of the House, the Senate, governorships and state legislatures during her presidency.

Things happen for a reason, and either change the reason or we will end up with the same outcome.

Brent"
The tactics spoken of to brand Donald Trump's openness to dealing with Putin and his lack of an aggressive attitude toward the Russians is seen as a weakness to be exploited by the Clinton warmongers in their efforts to distort Donald Trump, while masking their own entanglements with Russia, is there for all the world to see.
They also recognized the actual vulnerability of Clinton in her joint responsibility for the growth of ISIS and failures of her shared "strategy" with Obama for dealing with them.
This email reveals so much, and it is no wonder Podesta goes on and on about the "hacking" in an attempt to distract from the truth of the contents.
You can read more about the new emails Judicial Watch has received
here
.
"Like Paul Manafort, who is currently under indictment in the errant special counsel Russia investigation, the Podesta Group had to retroactively file Foreign Agent Registration Act disclosures with the Justice Department for Ukrainian-related work. The filing states that the Podesta group provided for the nonprofit European Centre for a Modern Ukraine "government relations and public relations services within the United States and Europe to promote political and economic cooperation between Ukraine and the West. The [Podesta Group] conducted outreach to congressional and executive branch offices, members of the media, nongovernmental organizations and think tanks." Unlike Manafort and his partner Rick Gates, the Mueller special counsel operation hasn't indicted anyone from the Podesta Group.

Also, the new emails show then-Obama White House Counselor John Podesta lobbying on behalf of the Podesta Group's efforts to secure a maintenance facility from Jet Blue and Lufthansa for Puerto Rico.

In a June 27, 2013, email former U.S. Ambassador to Germany and current New Jersey Gov. Philip D. Murphy writes to John Podesta, Minister-Counselor for Economic Affairs at the American Embassy in Berlin Seth Winnick, and others:

Jet Blue and Lufthansa are considering 2 locations for a maintenance center - Puerto Rico or Mexico. The Governor of PR wants this badly. The question is can we get to LH at the right levels to make the case. Either John or colleague OR John's brother Tony or colleague will get to us with more details.

Winnick then writes to John Podesta: "Washington alerted us to this advocacy issue and we are on it. Phil will try to connect in the next few days and we will follow up."

Later that day, in an email sent to his brother Tony Podesta and Winnick, John Podesta writes: "Thanks Seth. The Governor is a friend of mine. My brother Tony represents Puerto Rico and will follow up with details."

Winnick replies to John and Tony Podesta: "Happy to help on this one. I think we have the details we need for now from SelectUSA at Commerce but will come back if any issues arise."

Puerto Rico was selected by the airlines for the facility to service A320s in 2014.

Judicial Watch is waiting to hear on any additional documents the State Department may produce in response to our Podesta Group FOIA lawsuit.

By the standards of the Mueller special counsel operation, these emails alone would have been enough for the Podestas to have been hauled before a grand jury or worse. These emails are a stark reminder that the Mueller's special counsel operation seems more interested in the alleged foreign ties of the Trump team, rather than Hillary Clinton's (and Barack Obama's) associates.

Do you think Robert Mueller's partisan prosecutors have even thought of looking into this?