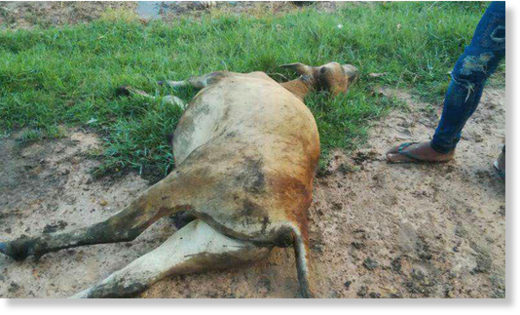 Lightning strikes have killed at least 50 people thus far this year, a government official said on Friday.
Keo Vy, spokesman for the National Committee for Disaster Management, said in a statement that since January, 50 people have been killed and another 37 injured, while 52 cattle were killed and more than ten houses were damaged.
"Everyone must be careful during rainstorms and beware of lightning," he said. "Most will occur in April, May and June. It is a dangerous period for natural disasters."
Shortly after Mr Vy's statement was issued, two more people were killed as they slept after being struck with lightning at their home
in Ratanakkiri province's Veun Sai district.
According to a district police report, the incident happened at about 11pm during heavy rain. It said that lightning hit a solar panel on the roof of the victims' home, spreading deadly electrical current to the rest of the house.
The report said that police conducted autopsies prior to releasing the victims to their family.
Additionally, five people in Koh Kong province were killed on Thursday after they were struck by lightning.
Provincial Governor Mithona Phouthang said that the victims had gathered for a Buddhist ceremony when a large storm began brewing, shooting lightning bolts toward the crowd.
"We've seen this before,
but not with so many people killed,
" Ms Phouthang said at the time.
According to data from the National Committee for Disaster Management, last year's natural disasters, including storms, lightning and floods, killed 103 people and 74 cattle, while injuring 119 people.
The report added that 2,000 families were affected while thousands of houses, public buildings, crops and infrastructure were damaged.
Prime Minister Hun Sen earlier this month called on all Cambodians to pay more attention during the rainy season, especially soldiers on the borders. He said that the government is doing whatever is possible to ensure the safety of army personnel.
"The authorities have to go down to distribute raincoats and other equipment to the soldiers who are standing at the border," he said.