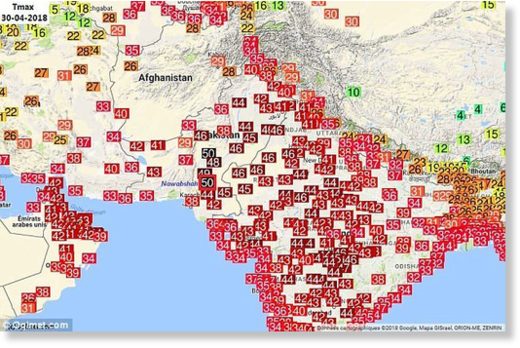 Pakistan has experienced the world's hottest April day on record, with temperatures peaking at 122.4F (50.2C), according to experts.
The Pakistan Meteorological Department confirmed the extreme temperature was recorded in the city of Nawabshah on Monday, April 30, potentially making it the hottest April temperature ever witnessed on Earth.
In April, average temperatures in Pakistan range from 64.4F (18C) to 84.2F (29C).
Etienne Kapikian, a French meteorologist at Meteo France, said on Twitter that it was the hottest April temperature recorded across the entire Asian continent, as well as Pakistan.
His tweet prompted one person to reply: '50 Celsius? In APRIL?! RIP Pakistan.'
Another said: 'It's not like we don't get 50C
but it's just that we never had it so early in the season.'
One concerned man asked Kapikian how best residents should 'beat this hottest temperature', adding, 'I belong to this city Nawabshah and here many peoples died due to heat stroke [sic].'
Christopher Burt, a global expert on weather extremes, told the
Washington Post
that Monday's temperature in Pakistan might be the highest ever recorded in the world in the month of April.
He said it was probably the highest temperature 'yet reliably observed on Earth in modern records', adding that while it has previously been reported that Santa Rosa, Mexico, had experienced 123.8F (51C) in April 2001, that competing figure was of "dubious reliability".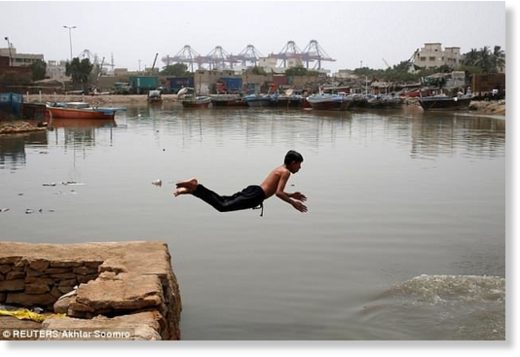 Pakistani newspaper
Dawn
reported that dozens of residents suffered heatstroke on Monday, and that 'business activities came to a halt' in Shaheed Benazirabad. In response, one reader commented: 'This is called a glimpse of hell on earth'.